A new collector's edition SKU for the upcoming Splinter Cell Blacklist video game has been announced by Ubuisoft. The Splinter Cell Blacklist Paladin Multi-Mission Aircraft Edition for Xbox 360 and PlayStation 3 will be priced at a whopping $169.99. The game will be bundled with lots of "collectors" extras including the headlining remote controlled "Paladin" aircraft.
IGN reports that the Splinter Cell Blacklist Paladin Multi-Mission Aircraft Edition will be available on 20th August, when the game is launched, but only be purchasable in the Americas. In addition to the game and the remote controlled aircraft the box will include the following extras; "a copy of the 88-page Splinter Cell Echoes graphic novel, a poster, the "Billionaire's Yacht" co-op map, the Upper Echelon Pack containing the "Dead Coast" co-op map as well as the Gold Sonar Goggles and Upper Echelon Suit in-game items".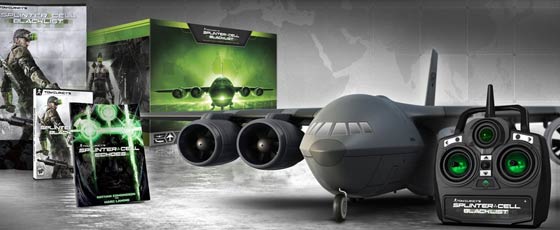 The Paladin RC aircraft is a "custom three-channel, dual-motor plane modelled after the in-game mobile headquarters" according to Ubisoft. For some people the aeroplane may be a source of more fun than the video game.
Splinter Cell Blacklist is the latest in the series of this famous action adventure stealth game. In the game you will play "lethal operative" Sam Fisher and sneak into terrorist facilities to prevent a series of escalating terrorist attacks on key US assets.
Splinter Cell Blacklist will be launched on 20th August 2013 and be made available for Xbox 360, PlayStation3 and PC systems.