Pre-order your copy of Rage before October 7th and you'll be glad to hear that your purchase will get automatically upgraded to the Anarchy Edition.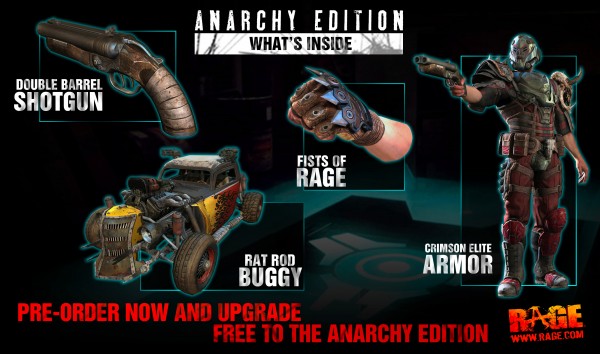 The extended version of id Software's upcoming post-apocalyptic shooter adds four additional items to your arsenal, including:
Double-Barrel Shotgun
"Wasteland settler design and ingenuity! Features compact form factor with plenty of muscle to take out everything from mutants, bandits and maybe even a lone Authority Enforcer."
Crimson Elite Armour
"This is the most sought-after armour in the wasteland. Constructed of hardened plate armour, this gear was created specifically to withstand the toughest wasteland battles. It also features larger component storage, allowing you to carry more parts that will aid in the fabrication of advanced engineering items."
Fists of Rage
"A classic weapon for close quarters combat. When you've run out of ammunition and fists are the only option, these razor sharp knuckle blades will give you that combat edge."
Rat Rod Buggy
"Improve your odds of survival in the wasteland with this vehicle that comes equipped with a front smash guard and durable protection."
Check them out in the video below:
Pre-orders are currently available from a selection of retailers including Amazon, HMV, GAME and GameStop with a release date of October 7, 2011 and will be available on PlayStation 3, Xbox 360 and PC.