Ubisoft has begun to offer a scaled back version of its For Honor melee fighter title exclusively for PC gamers. The new For Honor PC Starter Edition is being offered at $14.99 (£11.99 in the UK, and 14.99 Euros). Ubisoft is still selling the Standard Edition on PC for a whopping $59.99 / £49.99, so what snips have been made to formulate the 'bargain priced' Starter Edition?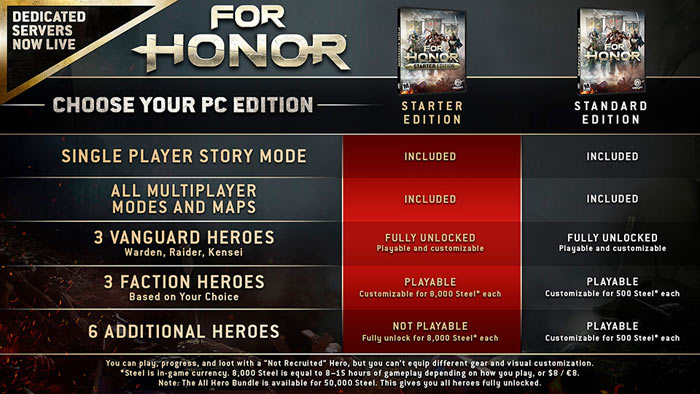 In its blog post Ubisoft insists there isn't a great difference between the Starter and Standard Editions. The table above summarises it most clearly. However, if it still seems to be clear as mud its worth looking over the Starter Edition FAQ which bullet point describes the differences between the Starter and Standard Editions as follows:
The Starter Edition:
Fully unlocks the 3 vanguard heroes (Warden, Raider, Kensei). Fully unlocked characters are both playable and customizable (weapons, armour, emotes, executions, effects, etc).
Provides 3 additional playable Heroes, depending on the faction you have picked (Vikings, Samurai, Knights). You can fully unlock these heroes for 8,000 steel (in-game currency) each to be able to customize them.
Allows 6 additional heroes (from the two non-chosen factions) to be fully unlocked (playable and customizable) for 8,000 steel each.
Allows heroes from post-launch seasons (including Centurion, Gladiator,Shinobi, Aramusha, Shaman and Higlander) to be fully unlocked for 15,000 steel (same as in the Standard Edition)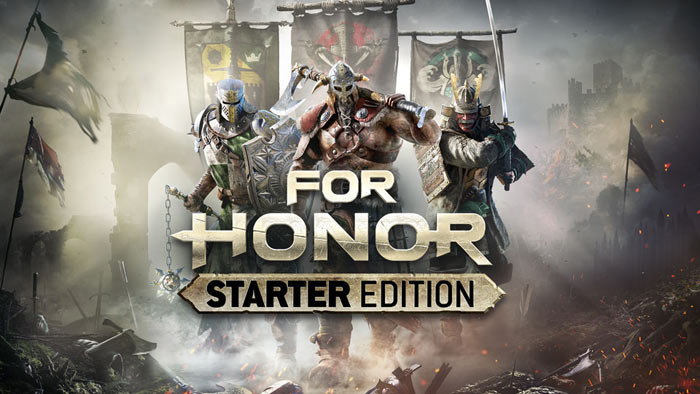 If you enjoy the Starter Edition and want to purchase an equivalent of the Standard Edition in one transaction you will need to shell out for the 'All Hero Bundle' for 50,000 Steel. While you can earn Steel in the game, by all accounts it would be a significant 'grind' to scrape together 50,000 of this in-game currency. Some might be tempted to buy Steel for cash and for this quantity it will cost you $40 (or £32 in the UK).
This isn't the first time that Ubisoft has punted a Starter Edition. The Rainbow Six Siege Starter Edition (£11.99) launched this January with a similar scheme involving the in-game-earned 'Renown' or purchased 'R6 Credits'.