Just ahead of the weekend Ubisoft dropped a couple of news nuggets regarding its upcoming Far Cry 5 escapade. Ubisoft has revealed its Far Cry 5 Season Pass details. In another news bulletin, it announced the release of the Far Cry 5 Story Trailer (video).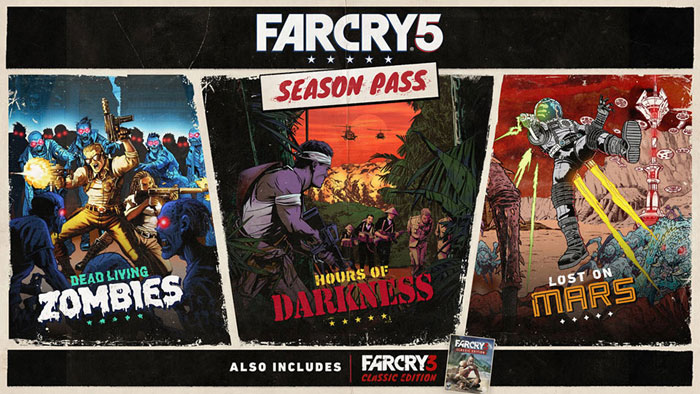 The season pass for Far Cry 5 will contain a diverse range of content. Above you can see the promo image showing that season pass purchasers can enjoy:
Dead Living Zombies – fighting the horde,
Hours of Darkness – escape from the Viet Cong,
Lost on Mars – saving Earth from Martian arachnids,
and Far Cry 3 (Classic Edition on consoles, vanilla on PCs).
There are several editions of Far Cry 5 that you can (pre)purchase. Ubisoft encourages the purchase of its Gold Edition (or Steelbook Gold Edition) which includes the game and Season Pass. As an extra enticement Gold Edition buyers get Far Cry 3 Classic Edition with four-week early access too. All edition pre-orders qualify for at least a bonus 'Doomsday Prepper Pack' which includes character outfit, gun and vehicle skin, and additional consumables.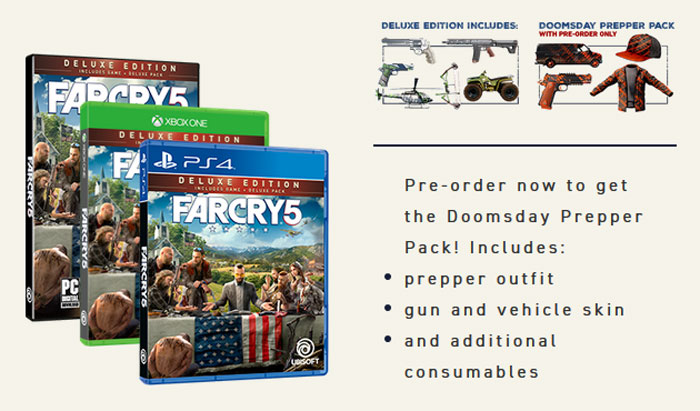 Ubisoft's new story trailer for Far Cry 5 is embedded below. In the video you can see the backstory for the game revolving around a doomsday cult which kidnaps local people and takes their land. Eden's Gate is led by the charismatic Joseph Seed and you will lead the resistance against him and his fanatical followers.
As a reminder, a couple of weeks back we got the lowdown on the PC recommended specs for this new Far Cry game. Far Cry 5 is scheduled for release on 27th March on PlayStation 4, PlayStation 4 Pro, Xbox One, Xbox One X and PC.