Activision's Call of Duty: Infinite Warfare has grasped the number one spot in the UK's games sales chart for Xmas week. The chart, published by GFK Chart-Track, shows the latest Call of Duty game holding off challenges from the likes of FIFA 17, Battlefield 1, Watch_Dogs_2 and GTA V. Astonishingly this is the seventh Call of Duty title to hold the top spot over Xmas in the UK. Over the pond, in the US, it managed to claim the title of "the No.1 console video game… based on year-to-date revenues from physical unit sales." The game was only released on 4th November.

There was significant movement in the lower regions of the chart ahead of this celebratory week. While CoD held steadfast at No.1, as did the No.2 and 3 games, GTA 5 climbed from No.11 to No.5. Furthermore, Bethesda's Dishonoured 2 leapt nine places, back into the top ten at No.8. Ubisoft's Steep also climbed nine places to No.9. In a good result for 2K Games, Mafia III managed an even better recovery, scaling from No.26 to No.10. Some of these large movements are spurred by from Pre-Xmas sales says Chart-Track.
UK top 10 games chart (not including digital sales)
Call of Duty: Infinite Warfare
FIFA 17
Battlefield 1
Watch_Dogs_2
Grand Theft Auto V
Final Fantasy XV
The Elder Scrolls V: Skyrim Special Edition
Dishonored 2
Steep
Mafia III
Over in the US Call of Duty: Infinite Warfare has done even better. It's the top selling console game of November and "the No.1 console video game franchise in North America for the 8th consecutive year".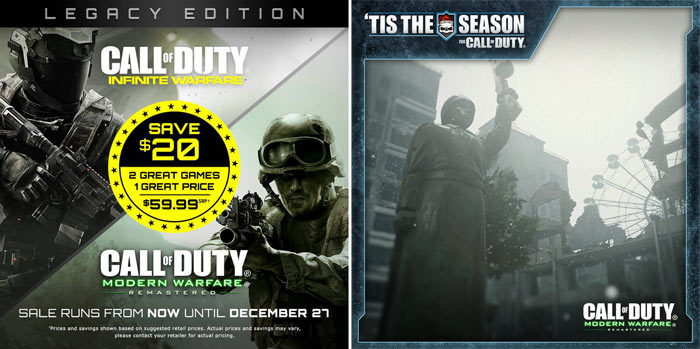 In a press release Activision took the opportunity to add that its Call of Duty: Infinite Warfare Season Pass has become available. The US$49.99 (£39.99) pass will provide discounted access to four Call of Duty: Infinite Warfare DLC Map Packs released during 2017.