Samsung has, like HTC, chosen to try and rise above the MWC throng by making its flagship announcements ahead of the exhibition kick-off. The Samsung Galaxy Unpacked event has been teased since the beginning of February but Samsung, like HTC again, couldn't keep it completely under wraps and we saw some pretty clear shots of both the Galaxy S6 and S6 Edge last week. Actually I added the pictures as a footnote at the end of the Samsung UFS 2.0 memory chip story, and these UFS 2.0 chips will be installed in the flagship smartphones to provide 'SSD-like' speed.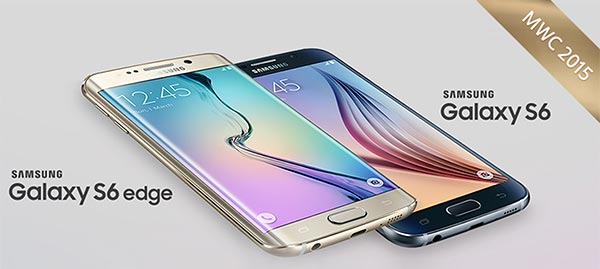 So the new Samsung Galaxy S6 flagships are pretty much as we expected; a standard model and a model with a display which wraps over both left and right edges. The Galaxy S6 and Galaxy S6 Edge both have 5.1-inch Quad HD(2560x1440) 577ppi, Super AMOLED screens and other than the wraparound screen on the S6 Edge and a slight difference in weight, dimensions and battery capacity are identical. With the Galaxy S6 models Samsung has moved quite a way away from the old S5 'elastoplast' or 'band-aid' design and gone majorly into metal and glass construction. That seemed like something people wanted with the last flagship but Samsung hadn't quite got up to speed with expectations, perhaps. It has since launched several metal chassis models, notably the Galaxy A range, and they must have shown positive results. The headline for the main Samsung Galaxy S6 press-release of the evening reflects the importance of construction, it reads: "Beautifully Crafted from Metal and Glass, Samsung Galaxy S6 and Galaxy S6 edge Define What's Next in Mobility".
Starting with the construction Samsung says that the Galaxy S6 models are "carefully crafted from metal and glass". The metal finish is non-glossy and the frame is said to allow more positive button use on the sides. Front and back of the smartphones are protected by Gorilla Glass 4. While the front view is of course purely transparent the back offers micro patterns layered inside the glass and several layers of nano-thin material coating it to produce "an array of colorful jewel tones, creating a spectacular visual texture". Buyers can choose from White Pearl, Black Sapphire, Gold Platinum, Blue Topaz and Green Emerald.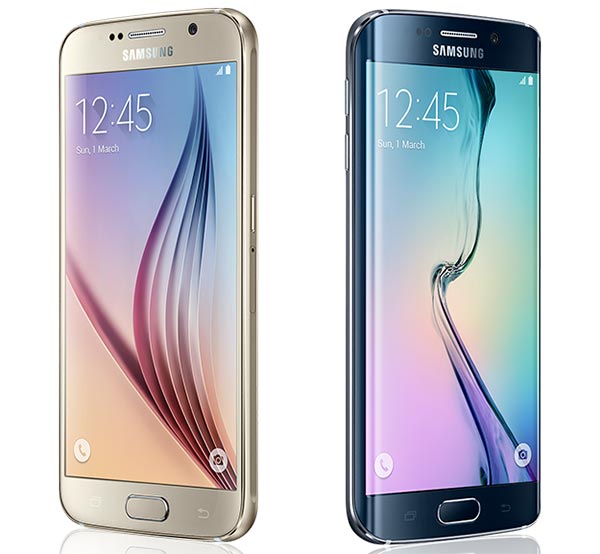 Samsung also wants to draw our attention to the photographic capabilities of the new flagship pair. They have a 16MP main camera and 5MP selifie shooter, both with f1.9 lenses for better low light exposures. Samsung says the main camera offers Auto Real-time High Dynamic Range (HDR), Smart Optical Image Stabilization (OIS) and IR Detect White Balance. The sensor is 1.6 times larger than that in the S5. Users can 'quick-launch' the camera app in 0.7 seconds via a double press of the home button – that's more useful than that Voice AI assistant I have on my Note 3…
For the first time it looks like Samsung doesn't have a user-replaceable battery (or micro SD card slot) in its Galaxy S smartphones. However new features might help users stay charged up; wireless charging via WPC and PMA standards is available as is a super-fast wired charging scheme offering up to 4 hours use from just 10 minutes plugged in.
HEXUS has covered recent Samsung announcements concerning the world's first 14nm SoC mass production and world's first UFS 2.0 standard high speed mobile storage in capacities up to 128GB. Both these state-of-the-art components are leveraged in the new Galaxy S6 smartphones, among other modern tech at Samsung's disposal. The Quad 2.1GHz + Quad 1.5Ghz 14nm mobile processor with 64-bit platform is paired with a LPDDR4 memory system and UFS 2.0 flash storage to provide high performance, enhanced memory speed and lower power consumption.
Other features that Samsung highlighted were Samsung Pay mobile payments using both Near Field Communication (NFC) and Magnetic Secure Transmission (MST) technology and enhanced security built upon an upgraded Samsung KNOX.
The Samsung Galaxy S6 and Galaxy S6 Edge will be available globally starting from April 10, 2015 with 32/64/128GB storage options. Pricing will be revealed nearer to that date.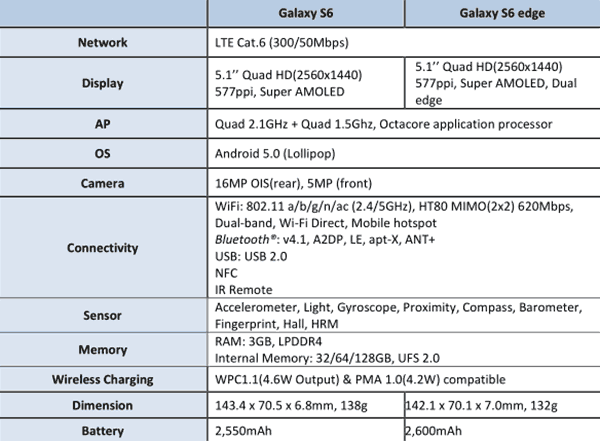 Samsung Gear VR Innovator Edition for Galaxy S6 and S6 Edge
To accompany the launch of the new Galaxy S6 and Galaxy S6 Edge Samsung has launched an updated Gear VR Innovator Edition. It's designed and optimised for the new smartphones and is actually 15 per cent reduced in size to be more comfortable to wear, says Samsung. One other design tweak is that the smartphone inside the Gear VR can now be powered via its USB port. With the new S6 smartphones' faster graphic processor users should enjoy even smoother, more immersive VR fun with the new headset.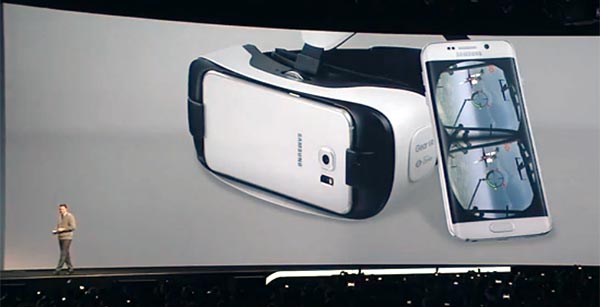 Samsung doesn't mention pricing or availability for the new Gear VR but it will probably be priced similarly to its predecessor ($200-ish) and be released alongside the new handsets.