The Samsung Galaxy Fold isn't available to purchase as yet. Here in the UK these £1800 mobiles are up for pre-order or pre-registration, depending upon where you want to purchase, ahead of a 3rd May release. However, units have already got into the hands of various tech site and large news corporation reviewers - and the results aren't looking very good. Below I will be sharing various pictures and early summaries of Galaxy Fold faults, many affecting the screen/hinge areas. Samsung has reacted to the news in the last few hours and I will share its quote on the issues too.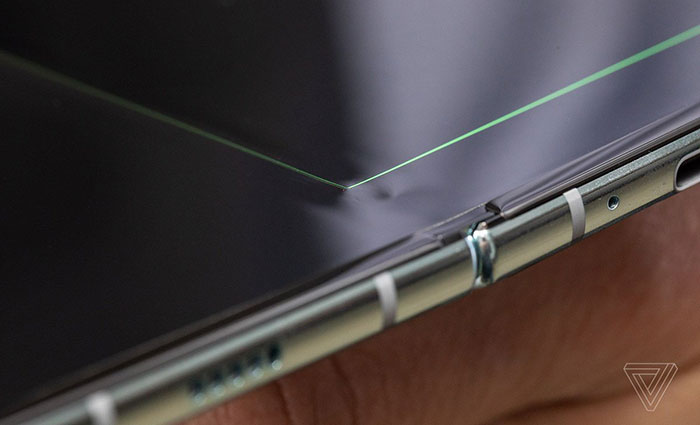 Rogues gallery
The first screen damage photos I noticed yesterday evening on Twitter came courtesy of The Verge. Editor Dieter Bohn shared pictures of an uneven looking hinge/screen area (main image embedded above), evident "after just a day" of use. Bohn assured readers that he didn't treat the phone badly, only doing "normal phone stuff, like opening and closing the hinge and putting it in my pocket." Furthermore, Bohn hadn't removed the 'screen protector' layer that covered his review phone.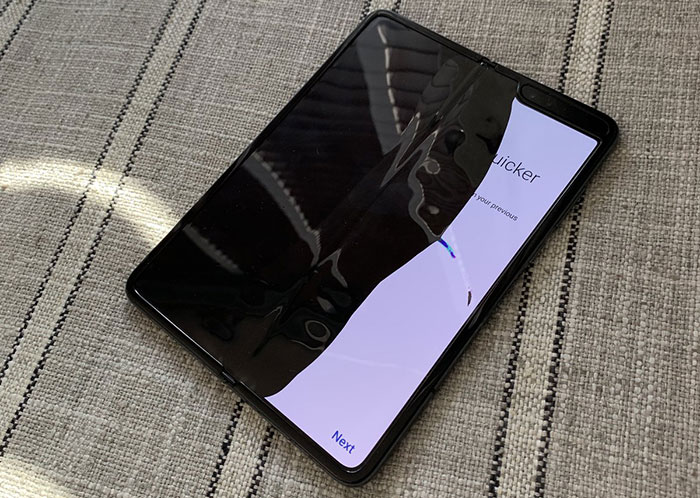 Other reviewers who experienced obvious screen damage in a very short testing period included Bloomberg's Mark Gurman (see above), and CNBC's Todd Haselton. Hasleton shared a video of a different kind of issue - a screen flex display glitch (see still image below).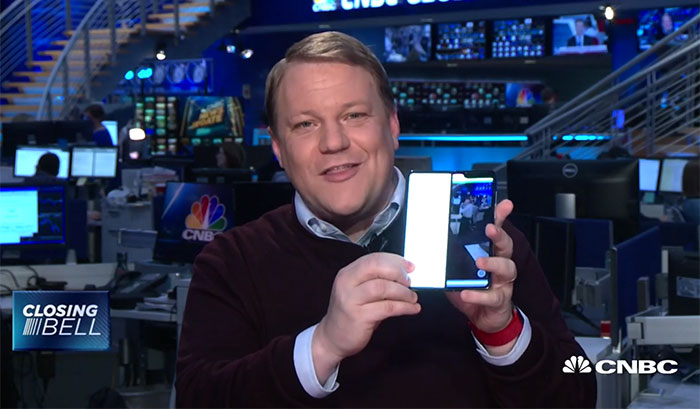 It turns out some reviewers and analysts took off a protective film from the phone, which they had mistaken for packaging plastics. Among their number was well-known YouTuber Marques Brownlee. Famous phone leaker @evleaks also reported screen issues with his device. Taking off the protective film is a no-no, according to Samsung. However, reviewers who left the film in place still reported screen issues and errors.
Samsung's statement
"A limited number of early Galaxy Fold samples were provided to media for review. We have received a few reports regarding the main display on the samples provided. We will thoroughly inspect these units in person to determine the cause of the matter.

Separately, a few reviewers reported having removed the top layer of the display causing damage to the screen. The main display on the Galaxy Fold features a top protective layer, which is part of the display structure designed to protect the screen from unintended scratches. Removing the protective layer or adding adhesives to the main display may cause damage. We will ensure this information is clearly delivered to our customers."
If I were interesting in pre-ordering or purchasing Samsung's £1800 folding smartphone I would be extremely wary, despite the reassurances. A few weeks ago Samsung seemed to pre-empt these screen issues with a promotional release and video demonstrating the Galaxy Fold's durability. The video showed tests where phones passed through 200,000 open/close cycles. However, as the reviewer evidence seems to show, these kinds of machine tests aren't a match for real day-to-day use.