Samsung has taken the wraps off a powerful new smartphone which it describes as "the future," and claims that it creates a "whole new mobile category". The Samsung Galaxy Fold is pretty much what we expected from previous Samsung presentations and recent leaks leading up to the Unpacked event. Developed over eight years the Galaxy Fold is perhaps better refined than we could have expected compared to the prototype we saw briefly back in November. For a folding device it seems to be pleasingly thin, and the specs are definitely flagship, however the price seems to be in a "whole new mobile category" too.
The tech specs of the Galaxy Fold are certainly impressive, from the use of two AMOLED screens (one with folding tech), to the triple rear camera, dual front camera, and cover camera, to the 12GB of RAM, 512GB of UFS3.0 storage, dual-battery offering about 4,300mAh, and the use of an unspecified 7nm 64-bit Octa-core processor. Below you will find the official specs table for your convenience.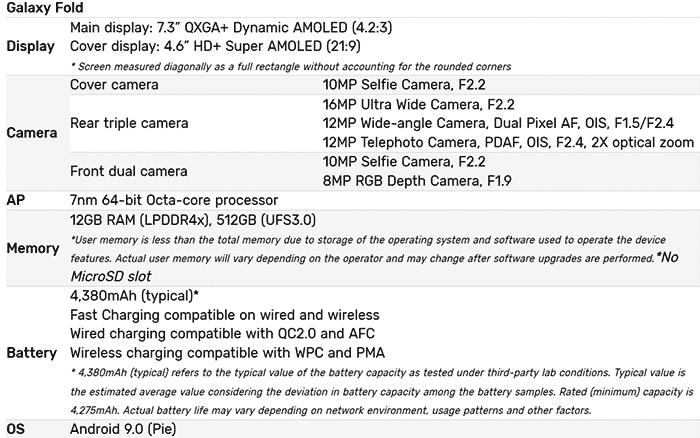 While the specs are very appealing, the key to this device's success will be down to how well it functions and the appeal of its 7.3-inch display to users. Samsung shared a reasonably thorough demonstration on stage at Unpacked, you can see it fold/unfold and extended functionality talked about in the full Galaxy Unpacked 2019 live stream from about 31 minutes onwards.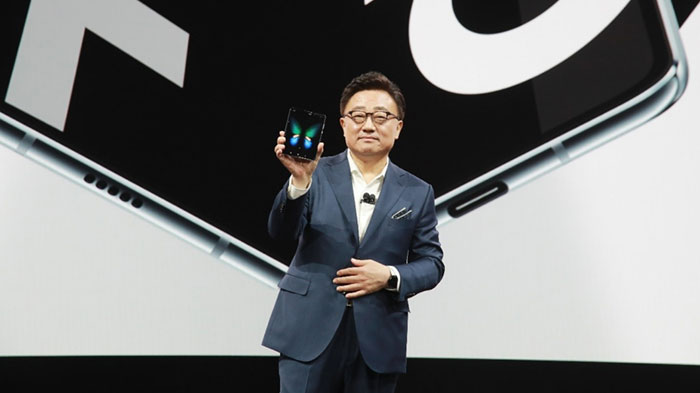 On the topic of that hinge, it is facilitated by the main screen's polymer construction, and a hinging mechanism with interlocking gears. It has been tested to withstand 200,000 folds, which adds-up to about 5 years usage if you fold/unfold the device 100 times a day.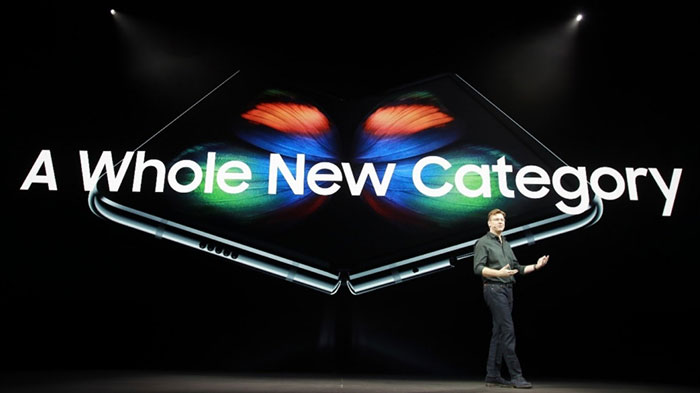 Three apps can multitask on the big screen quite comfortably using 'Multi-Active Window' - so you can "surf, text, work, watch and share". 'App continuity' plays a big part in the UI experience. When using Google Maps, for example, you can close the screen and the map will reappear on the smaller front screen. Whatsapp, Facebook, YouTube and Microsoft Office, and other major apps will be optimised for this functionality too. DeX works with the Fold too.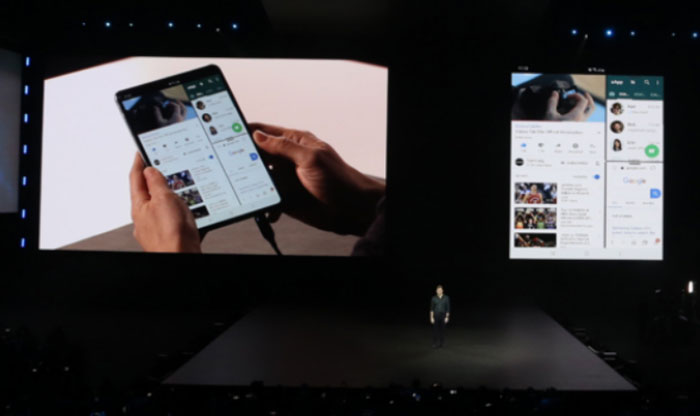 A 4G version of the Galaxy Fold will become available starting from 26th April at $1,980 (£1,515). Choose from silver, black, green or blue, with hinge colour personalisation options too. Samsung promises to deliver a more expensive Galaxy Fold 5G version later in the year.