Samsung has announced that, as part of its CES2016 presence, it will be demonstrating three previously unseen tech products from its Creative Lab (the Samsung C-Lab). The chosen products include; a healthcare belt, a motion controller for VR, and a watchstrap which transmits paired device sound via your finger. In related news, a 12-inch Samsung Windows tablet was recently spotted gaining Wi-Fi certification.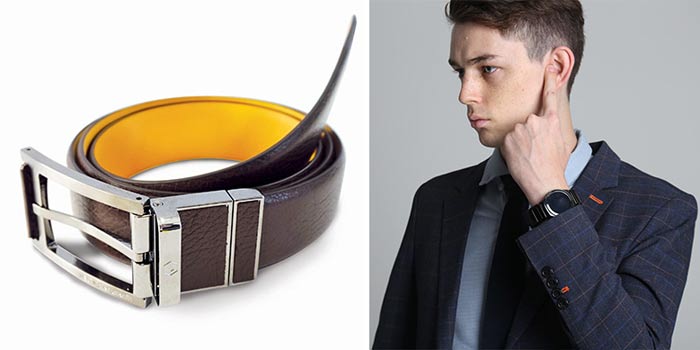 WELT (left) and TipTalk
WELT offers healthcare tracking technology built into a regular-looking belt. As well as holding up your trousers, WELT tracks and records your "waist size, eating habits and the number of steps taken, as well as time spent sitting down". Users pair it with a health app on a smart device with a screen - presumably something Galaxy branded - and from there they can track and analyse the data gathered.
TipTalk is said to offer users a 'new UX'. It is a specially designed watch strap which can be added to any kind of watch. It is paired with a smart device to enable people to discretely listen to that device by touching their ear with a finger. While other people won't hear the transmitted audio, Samsung says that you will be able to hear clearly even in "noise-sensitive or loud environments, such as a concert hall or building site". It can also be used with the Text-to-Speech (TTS) functions of your device.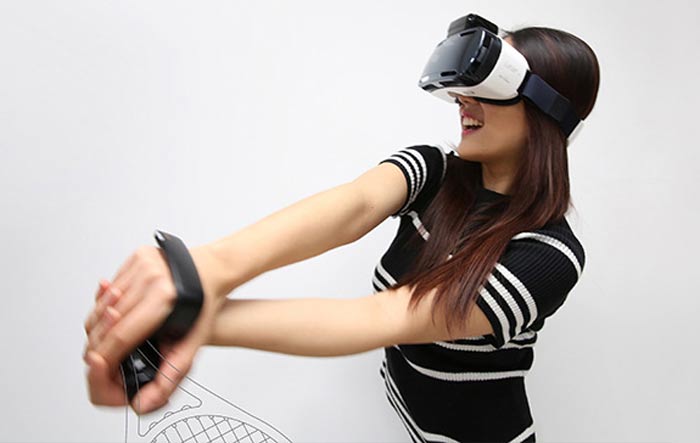 Rink hand-motion controller in action
Rink is Samsung's "advanced hand-motion controller for mobile VR devices". What is 'advanced' about it is not elaborated upon. This controller and others like it are optimised for deeper VR immersion.
Samsung Surface?
It appears that Samsung is about to jump on the 12-inch tablet train. As uncovered via a Wi-Fi certification body, via TweakTown, the upcoming tablet offers; a 12 inch screen, comes with Windows 10 installed, and of course, is Wi-Fi enabled. That's all we know of the Samsung SM-W700 for now, but it wouldn't be surprising if there's an accompanying keyboard accessory and stylus of some sort to pit it against the Microsoft Surface, Apple iPad Pro and so on.