Imagination Technologies has launched its Creator Ci40 in a kit, as a Kickstarter project. The Creator Ci40 is a new development kit that has "been designed from the ground-up for IoT applications". As a kit it comes with all the hardware and software you might need to get a next-generation connected project off the ground. Example projects include home automation, e-health, gardening and agriculture projects, security and surveillance, safety-critical connected sensors, or environment and air quality monitoring.
The Creator Ci40 IoT-in-a-box dev kit is a modular system "that is easy to assemble and even easier to code," says Imagination. At the heart of the kit is the Creator Ci40 development board which features a 550 MHz dual-core, dual-threaded MIPS CPU running OpenWrt and a multi-standard connectivity package (802.11ac 2x2, Bluetooth 4.1, 802.15.4, and fast Ethernet). There is further room for expansion should your project need it. Imagination gave us a sneak peak at the features of the Ci40 about a month ago.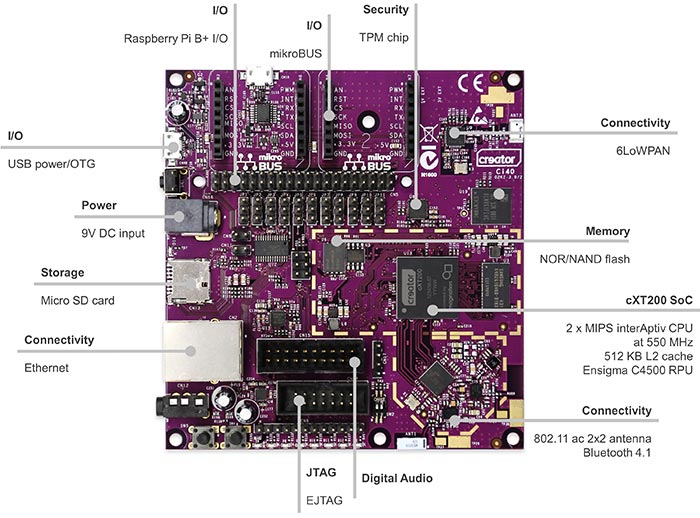 In addition to the main board you will receive the following hardware as part of your kit:
Two battery-powered MikroElektronika Clicker boards featuring a dedicated 6LoWPAN chip and the mikroBUS socket for adding sensors
Three MikroElektronika Click boards for measuring temperature, detecting motion, and controlling a relay
A USB cable to supply DC power

Imagination notes that there are "hundreds of other Click boards available from MikroElektronika". Users pair the Clicker expansion boards with their choice of the three Click companion boards in the kit to quickly prototype and build gadgets connected by low power wireless standards to the Creator Ci40 IoT hub. You can see the sensor based click boards pictured above.
The software part of the kit includes:
FlowCloud: a complete cloud platform for connecting devices to the internet, enabling easy product registration and updates as well as access to partner-enabled services
Open source software frameworks, network stacks and cloud connectivity. You can use the Creator Ci40 development board with OpenWrt, Brillo and Debian Linux. The clicker boards use a real-time OS. Imagination says it is committed to open source technologies.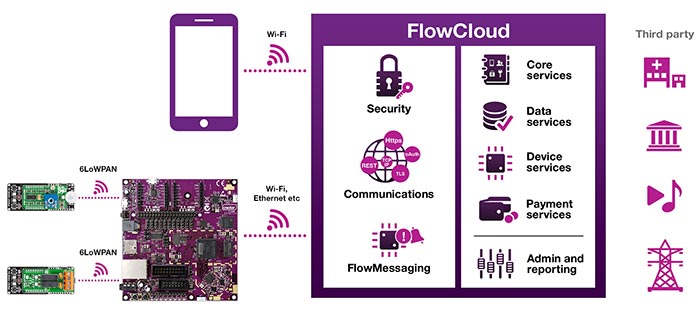 Imagination's Kickstarter project began at noon (UK) today and a whole kit can be reserved with a pledge of £70. There are lower pledge amount for various kit components and various pledge packages all the way up to £1,300 for 25x full development kits. It is estimated that the kits will ship in March/April 2016. At the time of writing Imagination has secured just over £1,000 of its £20,000 goal.
Creator Ci40 development board full specs
CPU: 550 MHz dual-core, dual-threaded MIPS interAptiv, 32/32 kB L1 I- and D-cache per CPU, 512 kB L2 cache, IEEE 754 Floating Point Unit
RAM: 256 MB DDR3 SDRAM
Memory: 512 MB NAND flash, 1 x micro SD card
Communications: 802.11b/g/n/ac 2x2 Wi-Fi (Ensigma™ C4500 RPU), 802.15.4 6LoWPAN dedicated chip, Bluetooth 4.1 (Classic + Smart, respectively)
Security: Dedicated TPM chip
Ethernet: 1 x RJ45 Ethernet port
Audio: 1 x 3.5mm input/output jack, 1 x S/PDIF input/output connector
I/O: 32 x GPIO, 2 x mikroBUS i/f, 4 x PWM, 1 x SPI, 2 x UART, 2 x I2C, 5 x ADC, expansion headers, 14-pin EJTAG connector, 9 x indicator LEDs (7 x I/O, 1 x MCU),
USB: 1 x micro USB 2.0 OTG
Power: Micro USB (5V DC) or barrel adapter (9V DC)
Dimensions: 100 mm x 106 mm