High-profile devices using NVIDIA's Tegra 2 SoC are few and far between. With a torrent of tablets scheduled for release in the fourth quarter of the year, though, we're likely to see a lot more arriving at retail over the coming months.
If today's rumours are to be believed, Toshiba might manage to be the first to get a product to market - and it could be here sooner than you think.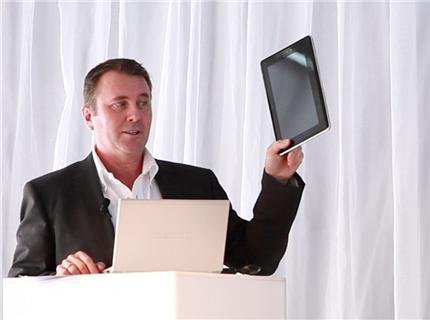 According to Digitimes, Toshiba will be shipping a 10in tablet that makes use of the Tegra 2 processor in either September or October. Based on the newspaper's source, the company expects to move 40,000 to 50,000 units of the new device before the end of the year.
There aren't any more details on the alleged device, but the rumour does line up quite nicely with comments made by one of Toshiba's Australian executives at a press conference in July. Managing Director Mark Whittard showed off a prototype Android tablet that he suggested would arrive during a similar timeframe.
With HTC and Google rumoured to be joining the fray in November as well, the next few months will be pretty busy in the world of tablets. If Toshiba manages to get its device out next month, though, it could become the first mainstream manufacturer to actually release an Android tablet.