What's a Black Friday you ask? Well, it's an American thing - over in the States, the first Friday after Thanksgiving is labelled Black Friday to herald the start of the Christmas shopping season.
To mark the occasion, numerous stores run one-day mega-sales to which punters flock in massive numbers. Here in the UK, we hear little about it, and this year we'll be left begrudging the event as our pound grows weaker by the day and Brown's VAT reductions offer little hope.
It's a grim-ol' build up to Christmas, but the folks at Apple are sending a little sympathy our way. That's right, Apple has announced that its UK store will also be running a one-day special event this Friday. U.S. customers are expecting to save hundreds of dollars on Mac purchases and it turns out that we could see similar savings, too.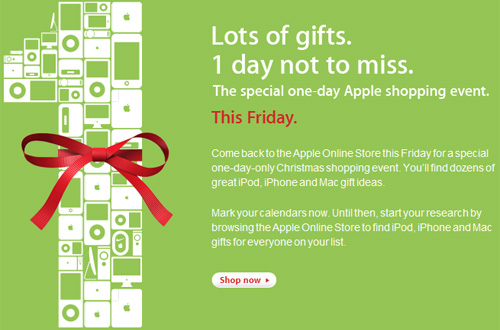 It all sounds promising, but our scepticism remains as we're yet to hear Apple UK mention the word "sale". Indeed, its one-and-only hint at the event mentions only a multitude of gift ideas - we're hoping they'll be available at discounted rates, but it could just be a means of getting us Brits to visit the Apple Store on the big American day of shopping. On the other hand, it could mean cheap-as-Sandisk iPods and iPhones that don't break the bank.
We'll find out soon enough, so keep an eye on the UK Apple Store this Friday as there could be deals to be had.
Source: store.apple.com/uk