What do the engineers at Nikon enjoy making when they're not rolling out some of the very best cameras available? Futuristic multimedia playback headsets, apparently.
Announced today are the Tokyo-based company's Media Port UP300x and UP300 - a pair of multimedia playback headsets that provide a tad more functionality than the headphones supplied with your iPod.
The Media Port UP300x, pictured below, has a small-and-lightweight 640x480 display that provides an image "equivalent to that of viewing of a 50-inch large screen from a distance of three meters". In addition to your 50in viewing pleasure, there's built-in Wi-Fi for on-the-move web browsing, and 8GB of internal memory for storing your favourite audio and video content.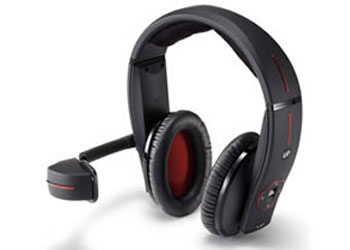 It'll playback WMV9, MPEG-1 and MPEG-2 movies, as well as MP3, AAC, and WMA9 audio files. It's powered by a pair of AA batteries, and should provide around 120 minutes of video playback on a single charge.
On top of all that, you'll also find a motion sensor for basic controls such as volume adjustment at the shake of the head. So, if you're into head banging and one-eyed movie watching, this one's for you.
There's no word on pricing, but the headset will only be available in Japan - and let's face it, walking around with one of these in Birmingham town centre is just asking to be mugged.
Source: Nikon.com