Sky has unveiled Sky Q, a range of set-top boxes, hubs and apps that combine Sky's signature satellite TV with internet TV viewing. The new system is supposed to provide viewers with a system that's easier than ever to use while bringing a wider range of entertainment to all the screens you own. Sky Q will launch in early 2016.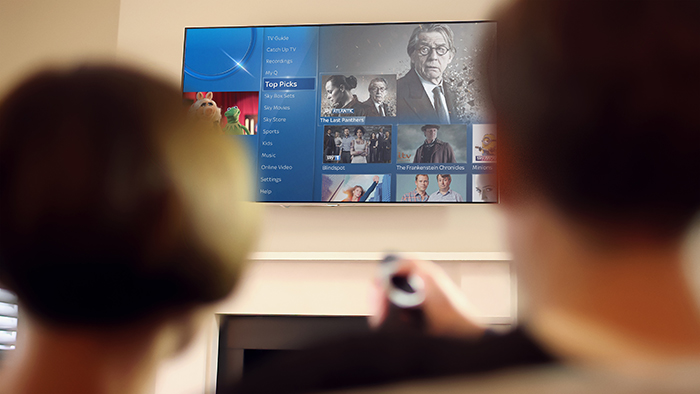 Highlights of the Sky Q product/service are as follows:
Users can watch shows from their box, whether live, recorded or on demand, anywhere around the home on another TV or tablet
Pause viewing on one TV screen and pick up where you left off in another room
Q-Sync - For the first time, take your favourite shows with you by saving recordings onto your tablet to watch anywhere
Watch different programmes on up to five screens simultaneously while also recording four other channels
The recording capacity of the Sky Q box is four times that of the current Sky+ box
Supercharge your Sky Broadband by turning all your Sky Q boxes into Wi-Fi hotspots – requires new Sky Hub
Scroll and swipe the new touchpad remote to choose what to watch on an all-new TV guide
Use the powerful search capability of Sky Q to find everything related to a show
Access an even wider range of entertainment on the big screen including YouTube, Vevo and the best of the web
Browse your Facebook photos and stream music wirelessly using Bluetooth or Apple's AirPlay
Sky Q highlights video
Jeremy Darroch, Sky's Chief Executive, commented on the upcoming Fluid Viewing experience; "Sky Q is a brilliant new way for customers to experience TV on their terms. We wanted to re-imagine TV so that it's flexible and seamless across different screens and to put a huge choice of entertainment at their fingertips." Sky promises that Sky Q systems will undergo continuous improvement over their lifetimes with UltraHD content, for example, coming with the launch of the most comprehensive UHD service later next year.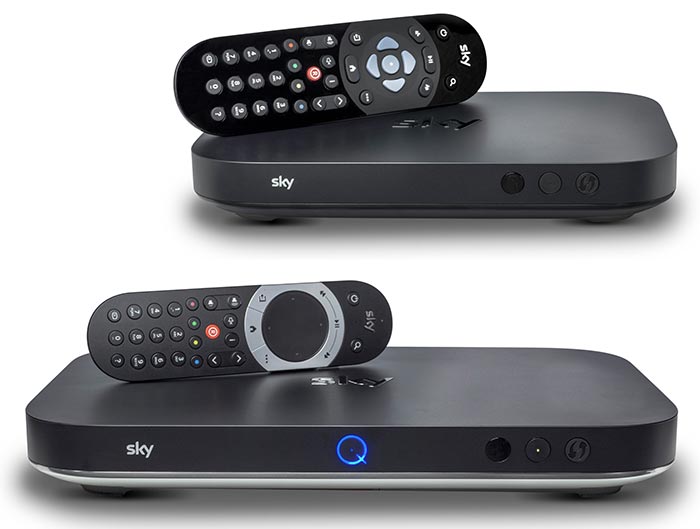 Sky Q Mini and Sky Q Silver STBs and remotes
The devices which Sky will launch to accompany the new service early next year are as follows:
Sky Q Silver and Sky Q – two new super-slim, powerful boxes for the main TV set, featuring up to 12 tuners and up to 2TB of storage
Sky Q Mini – a new plug and play box giving wireless access to Sky Q in other rooms in the home without running cables from the dish
Sky Q Hub – the all new Hub has built in Powerline networking technology, so it can use in-home electrical wiring as well as Wi-Fi to communicate with Sky Q boxes, automatically giving the best connection available. The Sky Q Hub also turns Sky Q boxes into Wi-Fi hotspots which means Sky Broadband customers get a stronger signal and better coverage throughout the home
Tying it all together will be the Sky Q app which allows fluid control of the Sky Q experience. Looking at the video it seems to expand upon the NOW TV UI and style we currently can use for online TV.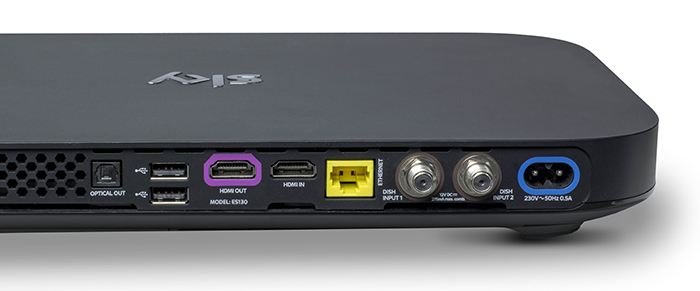 With the launch of the new Sky Q, what will happen to Sky's current entertainment services like Now TV and Sky+? Sky says that Sky Q will join its existing line-up of TV products, in the UK and Ireland. How it will fit among the current offerings is uncertain and the all-important pricing of Sky Q will be revealed closer to launch.