The Steve Jobs biopic was released in the USA on Friday but doesn't look like any kind of blockbuster, sitting at seventh place in the charts and raising a "paltry $6.7 million" in its first weekend. Also the film has produced a bit of controversy by over glorifying the role of Jobs, ignoring the achievements of others at the company and simply being inaccurate. Apple Co-founder Steve Wozniak suggests that Ashton Kutcher has Steve Jobs perspective which is a "fan thing, like a cult leader".
Steve Jobs' best childhood friend Bill Fernandez won't be watching
Fernandez introduced Jobs to Wozniak but won't be going to watch the film. He said that although Jobs was his best friend it's still too early to watch him being portrayed on the big screen. He added that, from what he's heard, "it's a piece of fiction". As a "seeker of truth" he's not very interested in watching these kinds of "falsehoods" acted out.
Apple co-founder Steve Wozniak said "there were a lot of things wrong"
Steve Wozniak gave a 15 minute interview to Bloomberg TV about the Jobs film. He thought that while you can't get every small detail correct in a dramatization, the concept of any scene should be right. Unfortunately "there were a lot of things wrong" with the way company history was portrayed in the film. The film was set in the Apple II era when Steve Jobs was young but his character was much more like the iPod era Jobs, explained Wozniak. This juxtaposition was simply wrong, as in the company's early days Jobs was still learning a lot, he "had a lot of flaws in knowing how to run things and execute and make products that were worthwhile" and acted a lot differently to the man who returned to Apple to kick off the iDevice era.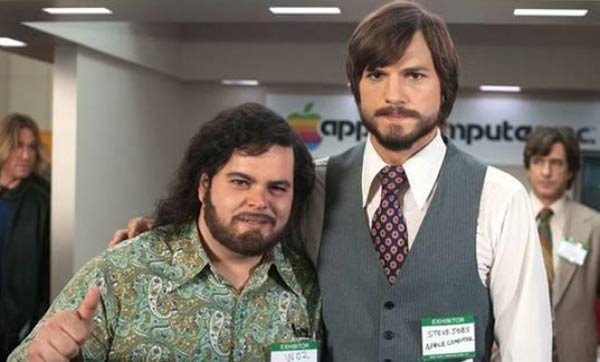 "I got an early script... and was kind of abhorred by it," commented Wozniak. Also this was a busy period for Wozniak, he was travelling the world and thought he should have been consulted before the script was written, not afterwards. The makers of the Aaron Sorkin film (due next year) have used Wozniak's knowledge a lot, before writing any scripts. However Wozniak did have some praise for the Jobs film, in that "The acting was good".
The Jobs biopic has yet to receive a UK release date.