Channel 4 will today kick off a week of 3D programming as it invites viewers to celebrate the history of three-dimensional video.
Starting at 5pm with The Paul O'Grady show in 3D, Channel 4 in collaboration with Sainsburys is giving viewers the chance to add another dimension to their TV experience - all you need is a pair of ColorCode 3-D glasses, available for free until November 22nd at your nearest Sainsburys supermarket.
Despite the lure of three-dimensional viewing, Channel 4 urges viewers not to expect cutting-edge programming. "We are not talking state of the art IMAX technology here, but some good old fashioned fun", says the broadcaster.
As part of its week of 3D, Channel 4 will air never seen before footage of the Queen during her Coronation year at 9pm tonight, Monday November 16th.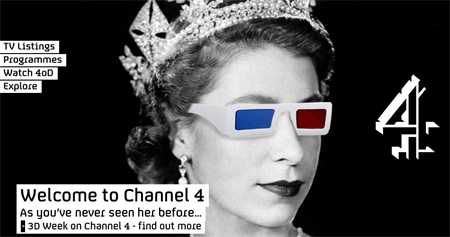 Later in the week, viewers can look forward to full movies - including Friday the 13th Part III in 3D - and a round-up of The Greatest Ever 3D Moments of all time.
For all the details, head on over to channel4.co.uk/3DWeek.