For fans of all-things robotic, days like these don't come along all too often. We've got an early look at teaser posters for 2009's Terminator Salvation: The Future Begins and 2010's RoboCop.
The Terminator IV teaser poster (pictured below, left) isn't of the best quality, but carries a tagline that reads "Becoming Self-Aware Memorial Day 2009". The image of the Terminator itself reminds us of the franchise's first movie, surely a good sign.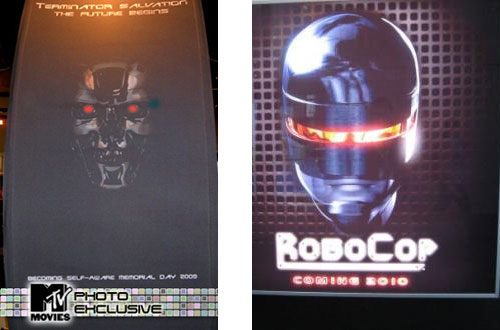 The RoboCop teaser poster (pictured above, right), pays homage to the RoboCop of old. It's by no means an indication of the final RoboCop we'll see on our cinema screens, but it indicates that the remake will remain at least a little faithful to the original.
Whether or not you agree with the idea of more RoboCop and Terminator movies, the fact of the matter is, they're on the way.
The fourth instalment of the Terminator franchise will reach US theatres in May 2009, and we already know that Christian Bale will take the role of John Connor in McG's telling of the war between mankind and machine.
According to reports, a teaser trailer for Terminator Salvation: The Future Begins will be attached to July's Batman-epic, The Dark Knight.
Related reading
Terminator 4's John Connor is cast
Terminator 4 hitting cinemas in May 2009
RoboCop returning to the big screen? I'd buy that for a dollar!