HD-beating camera-maker RED demonstrated at its recent camera event the new Scarlet-X 4K cinema camera, starting at the exceptionally low, lens-free price of $9,750, which will be on sale from November 17th.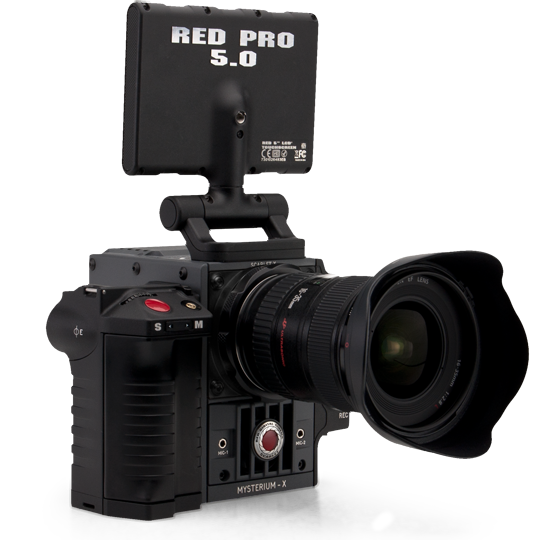 This is a big unveiling, as after what was meant to be Canon's big step into Hollywood with the announcement of its C300 cinema camera.
RED, with its m.o. to break from trend, has released a camera with a superior spec, for a lower cost, available this year and not January 2012. Canon did release a statement confirming that comparable 4K 'EOS Movies' DSLR cameras were on their way soon but with such a release likely behind the C300's January 2012 date and with the price of Canon's 1080p camera already up at $20,000, it feels like RED has, well and truly, trampled over Canon's big-break announcement.
As for the new device's specifications, make sure you're wearing a bib whilst you read through - these come undiluted straight from RED's website:
SENSOR
14 MEGAPIXEL MYSTERIUM-X™
PIXEL ARRAY
5120 (h) x 2700 (v)
DYNAMIC RANGE

13.5 stops, up to 18 stops with HDRx™ 6 fps with 5K FF and HDRx On 12 fps

with 4K HD and HDRx™ On

MAX IMAGE AREA
5120 (h) x 2700 (v)
LENS COVERAGE
27.7mm (h) x 14.6mm (v) = 31.4 mm (d)
LENS MOUNT
Al Canon EF (PL mount optional)
MAX DEPTH OF FIELD
Equivalent to S35mm (Motion) / APS-H (Still) lenses
ACQUISITION FORMATS
5K FF REDCODE RAW (Full Frame)
4K HD REDCODE RAW
3K HD REDCODE RAW
1080p REDCODE RAW
1K REDCODE RAW
PROJECT FRAME RATES
23.98, 24, 25, 29.97, 47.96, 48, 50, 59.97
MONITOR/PROGRAM OUTPUT

HD-SDI and HDMI with Frame Guides and Look Around or Clean Feed 1080p

4:2:2, 720p 4:2:2 SMPTE Timecode, HANC Metadata, 24-bit 48Khz Audio

DIGITAL MEDIA
REDMAG (SSD) Module : (64, 128, 256GB Media)
REDCODE™
16-bit RAW Processing : Compression choices of 18:1 to 3:1
1-12 fps 5K FF
1-30 fps 4K HD
1-48 fps 3K HD
1-60 fps 1080p HD
1-120 fps 1K
AUDIO
2 channel, uncompressed, 24 bit, 48KHz.
Optional 4 channel, and AES / EBU digital audio.
MONITORING OPTIONS
RED LCD 5" Touchscreen Display
BOMB EVF™ High Definition Viewfinder
REMOTE CONTROL
REDLINK Wireless, Ethernet, RS232, GPI Trigger
WEIGHT
5lbs. Body only
CONSTRUCTION
Aluminum Alloy
COLOR

Battleship Gray Brain Body, Black Canon Mount and Side SSD,

All DSMC Modules Black

TEMPERATURE RANGES
Operating Range: 0˚C to +40˚C (32˚F to 104˚F)
Storage Range: -20˚C to +50˚C (-4˚F to 122˚F)
So, sadly, looking at the operational temperature ranges, you won't be able to film BBC Frozen Planet on this camera but the device looks ready to take on just about anything else. It's interesting to note RED's continued adoption of SSDs as a storage media. This makes a lot of sense as SSDs are compact yet can hold a lot of data, are incredibly fast and robust, with the technology continuously evolving, already reaching capacities of 1TB in a 2.5 inch form factor.
This new camera significantly undercut's RED's own EPIC device, which we suspect Canon had been targeting, and creates a great and surprising new, low-cost contender in the 4K cinema market. RED suggests that with all the basic trimmings such as an LCD, lens, rails and handles, the unit will set punters back $13,000; with full support for the previous EPIC model's accessories and a Canon lens mount option, there's plenty to chose from.