RED introduces its DSMC
RED, a relatively-new manufacturer of ultra-high-end digital cinematography cameras, has today unveiled its Digital Stills and Motion Camera (DSMC) system.
DSMC - an interchangeable camera system - allows a user to shoot stills or motion using the same equipment in different configurations. To get started, says RED, you need to find yourself a "Brain" and begin to build around it.
Launching in 2009, RED will present a choice of two DSMC Brains; Scarlet and EPIC.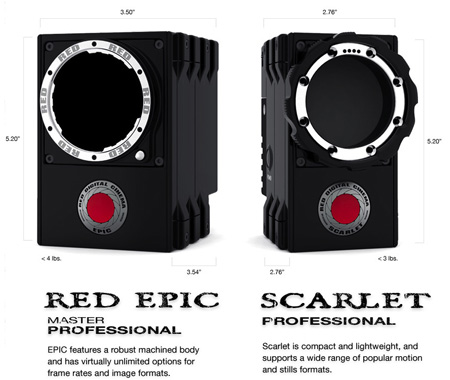 The Brains utilise RED's Mysterium-X and Mysterium Monstro sensors which range in size from 2/3in to 6x17cm. The idea is that when a new sensor is available, you simply change your Brain as opposed to the whole camera.
Prices for the brains will vary depending on specification and RED plans on rolling out four Scarlets and four EPICs over the next two years. At the low end of the scale, a Scarlet Brain with multiple lens mounts capable of shooting 3K at up to 120fps will fetch $2,500. At the top end, a 2010 EPIC Brain will shoot a monstrous 28K at up to 25fps - it'll fetch around $55,000, and can capture jaw-dropping 261 megapixel stills.
Once you've literally picked your Brain, you can choose all your other parts...