Stealthy progress
It's starting to look like Korean Electronics giant Samsung is succeeding where the likes of Google have, so far, failed. The company proudly announced today that it has shifted two million Smart TVs in the three months since they came on the market.
"Samsung Smart TV delivers the most optimized smart experience, while being faithful to TV's original features such as picture quality and design. Offering both product convenience and enriched content is the secret behind the success of our Smart TV," said Sang-Chul Lee, SVP of the visual display business at Samsung Electronics.
There hasn't been as much fanfare around Smart TV as you might expect, but that's part of a low-key approach Samsung is taking, which runs in stark contrast with Google TV, which made lofty claims a year ago, but seems to have had very little traction since.
The thing is, we don't want our TV experience to become too complicated. We want to turn on the box and mong-out, and any extra features need to be designed to facilitate and optimize that experience, not detract from it. We've had interactive features such as Ceefax since the 70s, but if they get in the way we reject them.
Samsung seems to understand this and is introducing Smart TV almost by stealth. It's not saying "buy a Smart TV", it's saying "Buy this TV and get Smart features for free". Only a company that already sells a ton of tellies can do that and Samsung is the market leader.
So while we think that strategy is probably the right one, and congratulate Samsung on its achievement, the two million figure does need to be viewed in the context of incremental technology introduction, as opposed to a whole new product category, such as the tablet.
Since launch Samsung has steadily added to the number of partners it has creating apps for its Samsung Apps TV store. The latest is one from the BBC, which debuts a news app on Samsung's Smart TVs. As you can see from the image below, it effectively superimposes BBC News online content on whatever you're watching, in what is effectively an evolution of teletext.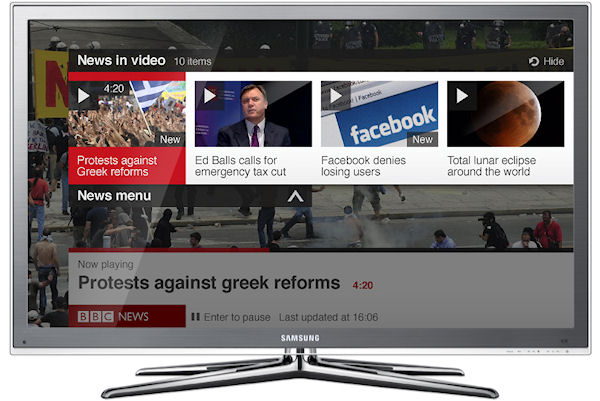 "Looking forward, we are particularly interested in creating seamless, personalised, and location-aware experiences of BBC News across all connected devices - mobiles, tablets, computers, and TVs. Internet-connected TV is still in its infancy, but innovations such as this hint at the long-term creative potential of the internet as a medium," said Phil Fearnley, GM of news at BBC Future Media.
Simon Woodward, CEO of TV embedded software company ANT, said of the BBC app: "We are in the middle of a content and technology evolution, as the TV industry moves towards integrating content across all connected devices.
"We've had glimpses of connected services before but this is the first to provide seamless content across multiple devices. It's not about making a leap into the unknown; it's about making small steps and delivering on them. The BBC has launched a service that brings us one step closer to the truly connected home. We expect to see a trend of similar services emerge in the near future as other players begin to push the envelope and deliver more and more new connected TV services."
Note how he talks about evolution, rather than revolution. This is key and in the UK the likes of the BBC are likely to be more instrumental in encouraging mainstream acceptance of connected TVs than technology companies. Together with cloud services and mobile apps, as discussed at the Rovi event last week, it's the delivery of multi-screen optimised content that will get people keen on connected TVs.