Nvidia has launched its next generation Shield TV and Shield TV Pro, which it claims are the "future of streaming entertainment". The two devices vary by form factor and port selection but are largely the same otherwise, as we noted in our article about the comprehensive leaks of these devices, via Amazon and Newegg, earlier this month. Beyond splitting the range into two forms, the headline change is the upgrade from Tegra X1 to X1+ processor, which Nvidia says is 25 per cent faster. There are some other worthwhile changes too though, so please read on.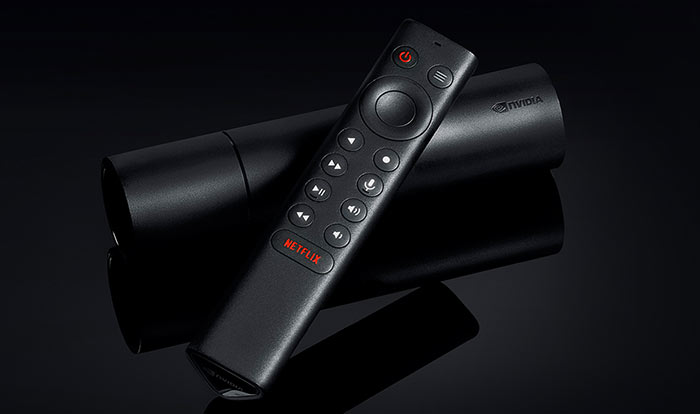 Jeff Fisher, SVP of Consumer Business at Nvidia claimed the new devices "provide a big step up for Shield," but we will leave you to be the judge of that. However Fisher did highlight the introduction of Dolby Atmos (a leap forward from surround sound), Dolby Vision (highlights that are up to 40x brighter, and blacks that are 10x darker) and "our breakthroughs in using AI to improve video streaming playback". The latter feature is rather interesting. While you might have a built-in 4K upscaler in your TV, utilising the Nvidia AI trained one can give "far sharper" and clearer visuals. Nvidia has trained its upscaler with modern videos and can deliver better guesses at what those pesky in-between pixels should be.
As for software and services, both devices come with Android 9 installed, so work as Android TV devices with access to hundreds of thousands of movies, shows, apps and games from Google Play. They also work with Google Assistant and Amazon Alexa. Last but not least these devices support cloud gaming on various platforms, local network games streaming and a number of advanced native games. Users can buy the optional $59 Shield controller of just use their own Bluetooth controller of choice.
As mentioned in the intro, buyers have a choice of form factor this time around and the official difference is as follows:
Shield TV [2GB RAM, 8GB storage + microSD] has a slim, stealthy design meant to disappear by blending in with, or behind, entertainment centres. It also has Gigabit Ethernet and dual-band Wi-Fi for lightning-fast connectivity.
Shield TV Pro [3GB RAM, 16GB storage + USB 3.0 ext storage] takes entertainment to the next level for the most demanding users. It is based on the previous generation's iconic, sleek design and comes with additional memory and storage, plus two USB ports for running a Plex Media Server and connecting high-capacity hard drives or other USB devices.
Of course the pricing is different too. Both the Shield TV and Shield TV Pro are said to be available now in the US, Canada and select European countries for $149 and $199 respectively.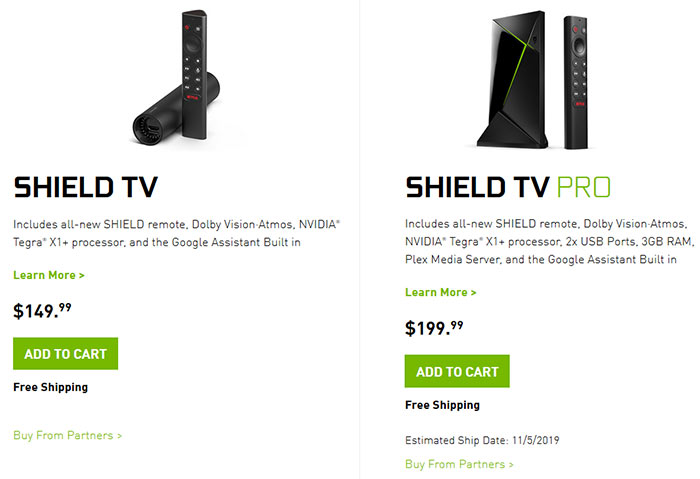 The new Shield Remote is included with either purchase. This triangular cross section accessory includes mic, motion activated button backlighting, Bluetooth, IR blaster to control your other AV equipment, remote locator and 2x AAA batteries in the box.