Amazon and Newegg have separately shared lots of info and images of new Nvidia Android set top boxes. At last we get to see the widely expected update to the Nvidia Shield TV - but there are two of them, a compact regular model and a Pro version. The former appears to be an HDMI Stick device in a tubular form (similar in size to a bicycle handlebar grip, and the latter looks a lot like the Shield TV of old, as reviewed by HEXUS back in 2015. Unfortunately both the Amazon and Newegg listings have been taken down overnight - but not before a multitude of tech sites had copied the texts and images.

Nvidia Shield TV
As mentioned briefly above, the new Nvidia Shield TV comes in the form of a compact tubular HDMI connected gadget. At its ends there are; an HDMI port and a microSD card reader on one end, with an Ethernet port on the other. It must be mentioned that there is no USB port of any kind present here, but on the positive side this device has the microSD slot that its Pro brother lacks. Other key tech specs, and a new remote design, are shared with the Pro model, bullet pointed below.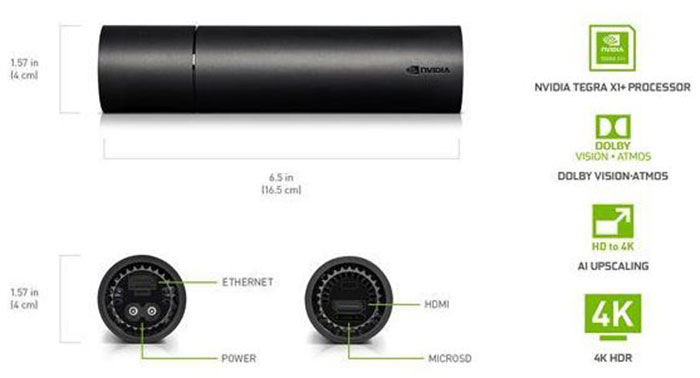 Nvidia's compact Shield TV was listed on Newegg Canada at a price equivalent to US$150.
Nvidia Shield TV Pro
The main new feature of these Android TV set top boxes is the upgrade to the processor. It is claimed to offer a 25 per cent performance improvement. Not much else has changed except for that and the upgrade to Bluetooth 5, and Dolby Vision HDR compatibility. So it will still be a capable 4K video streamer, Android gaming box, and Nvidia GeForce Now games streamer. Amazon listed this at US$200, with availability from 28th October.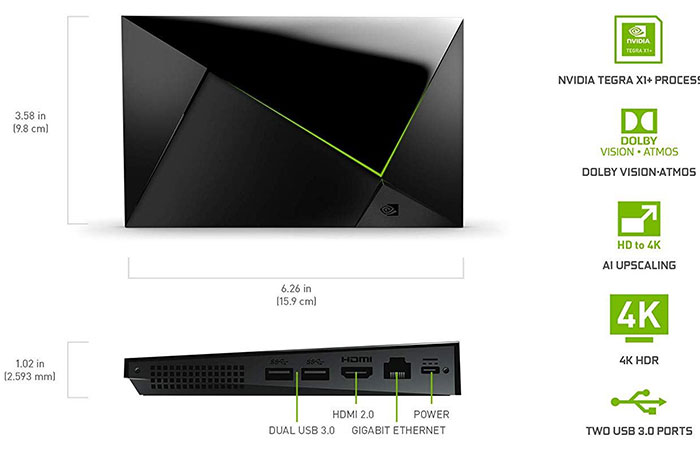 Nvidia Tegra X1+ processor
3GB RAM
16GB storage
2 x USB 3.0 ports
HDMI 2.0
Gigabit Ethernet
802.11ac Wi-Fi
Bluetooth 5.0
Chromecast functionality
Dolby Vision HDR
Dolby Digital Plus
Dolby Atmos
Both new Android TV STBs come with Nvidia's new remote (w/Bluetooth, IR, and voice). You can use the voice capability for Google Assistant and there is a new dedicated button for launching Netflix, as you can see. The remote uses standard 2x AA batteries (included), rather than coin cells.