Samsung has announced that it has updated its Windows mixed reality headset. The new Samsung HMD Odyssey+ improves on the existing (non +) model mainly through display technology updates. Specific improvements result in the fixed-pattern noise, and screen door effect (SDE) reductions.
"With industry-leading display technology and an enhanced, premium design, the new Samsung HMD Odyssey+ offers new levels of immersion, improving upon its already brilliant display resolution for a consumer immersive headset," claimed Young Gyoo Choi, SVP of the PC Business Team, Mobile Communications Business, at Samsung Electronics.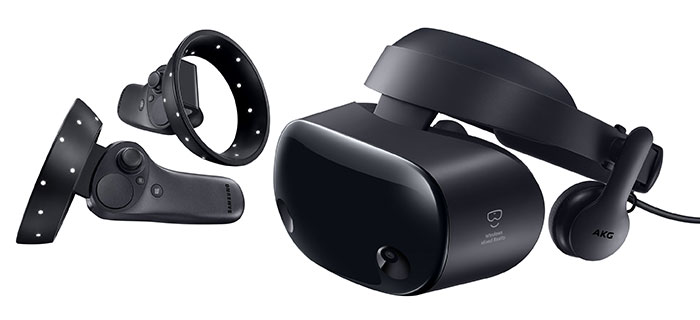 Samsung has equipped its new HMD Odyssey+ with twin 1,440 x 1,600 pixel displays. These are 3.5-inches each and use Samsung's latest AMOLED technology. The Samsung Anti-SDE technology reduces the appearance of fine lines separating pixels which can hinder immersion and lead to dizziness or nausea over time. Screen Pattern Noise is also minimised thanks to the "perceived PPI of 1,233 PPI," for an enhanced mixed reality experience.
Elsewhere in its construction the Samsung HMD Odyssey+ uses AKG's premium audio technology for exceptional dynamic sound, including built-in 360 degree spatial sound support that simulates 3D audio. Users can quickly and easily adjust the headset volume with in-line controls.
Samsung also boasts about the new HMD's comfort and adjustability. The headset is light at only 590g, and its wide eye box measures 146mm. As well as adjusting the headband you can tweak the Inter-Pupillary Distance (IPD) via a wheel. Face padding material is anti-fog, so should prevent undesirable eye box mist-up.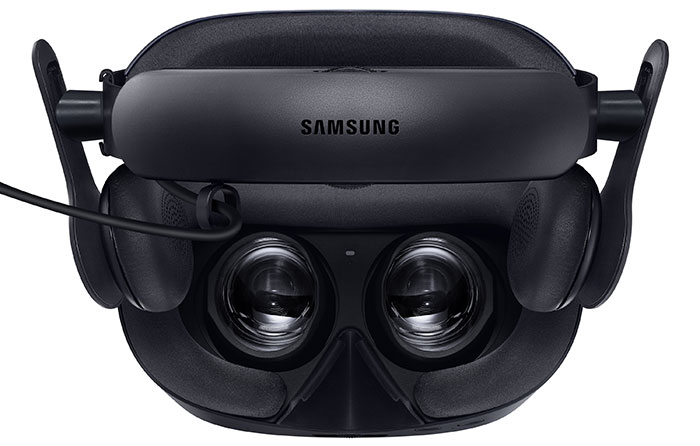 Samsung's HMD Odyssey+ comes with built-in Bluetooth and Inside-Out Position tracking features and is said to be quick to set up with your PC. In the box you will find pre-paired controllers with precision 6 Degrees of Freedom (DOF) fast tracking - for natural no-lag interactions in the MR world. The controller can work as a real-world 'flashlight' so you can always clearly check your surroundings when immersed.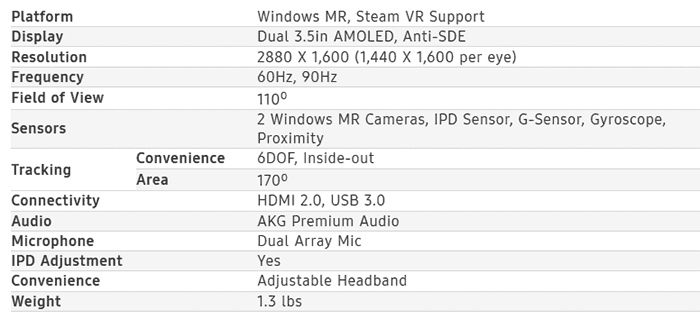 The Samsung HMD Odyssey+ will become available in the US from 22nd October followed shortly be regions including Korea, China, Hong Kong, and Brazil. Pricing will be the same as with the HMD it replaces, US$499.