In its latest quarterly results statement Lenovo revealed that it had, for the first time, sold more mobile devices than PCs. Revenue from its Mobile Internet Digital Home segment grew 102 per cent from the same time last year. The company said that smartphone sales had doubled and tablet sales tripled in the same period. Despite what sounds like a major focus shift Lenovo is currently the world's number one PC maker ahead of competitors like HP, Dell and Acer. In the worldwide ranking for smart-connected devices Lenovo is currently in position three.
Looking in more detail at the numbers, Lenovo produced a quarterly revenue of US$8.8 billion (10 per cent up year-on-year) and a net profit of US$174m (23 per cent up year-on-year). Lenovo hold a PC market share of 16.7 per cent and shipped 12.6 million PCs in the quarter ending 30th June 2013. It outperformed the industry which was down 11 per cent year-on-year.

Success in sales of smart connected devices was in evidence and Lenovo "continued to accelerate its transformation to a PC Plus company". It is now the third biggest supplier of smart-connected devices in the world and shipments of these grew 41 per cent year on year. "Lenovo's combined sales of smartphones and tablets surpassed PCs for the first time ever during the quarter, demonstrating the momentum of these two businesses," said the company press release. Currently, looking at smartphones alone, Lenovo is the world's 4th largest supplier. In China the situation is even better as it is in second place for smartphone sales.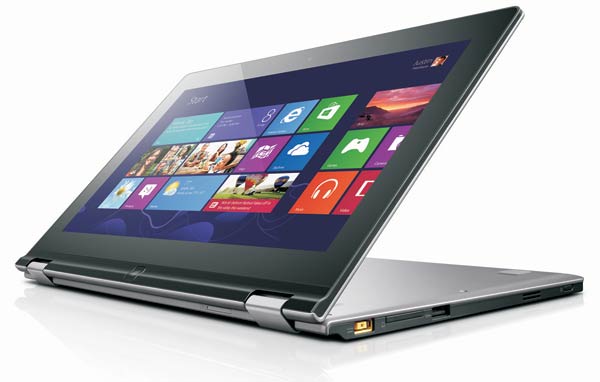 PC Plus
"In a tough PC market, Lenovo became the clear #1 for the first time and continues to improve profitability. Our strong performance in PC is fueled by balanced growth, through our consistent execution of the right strategy," Yang Yuanqing, chairman and CEO, Lenovo. "While driving profitable growth in our core PC business, we are rapidly transforming our company into a PC Plus company. The PC Plus market requires fast, efficient innovation as it moves quickly from premium products to mainstream ones and from mature market domination to emerging market hyper growth. This kind of market plays to Lenovo's proven strengths. Lenovo is now better positioned than our competition to take advantage of these clear trends."
Desktop PC market to be rescued by the Horizon Table PC?
With all its excitement about smartphone and tablet sales it's important to remember that Lenovo is still at its core a PC company. Laptop sales were the biggest single contributor to revenue for the company, they accounted for 52 per cent of company revenue. Lenovo sold 4.7 per cent more laptops year-on-year. Less successful are the Lenovo desktop PCs with growth being flat year-on-year. These make up 28 per cent of company revenue. However the company voiced hopes in the desktop market referencing the "industry buzz" surrounding its Horizon Table AiO PC.