PC maker Lenovo has announced that its humungous tablet, which we first saw at CES (video), is now available for pre-orders. The company said the IdeaCentre Horizon 27-inch Table PC will be available in US retail outlets in late June. However if you go to the Lenovo US website and order online, estimated shipping dates as early as the 6th May are on offer depending upon configuration.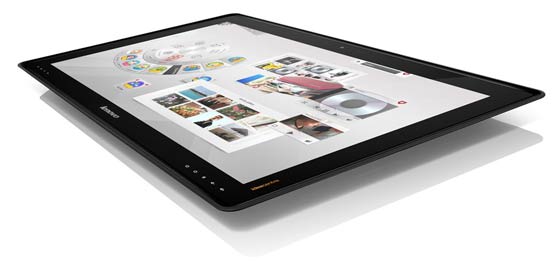 Lenovo is pitching the IdeaCentre Horizon Table PC as more than just that. Beyond its use as a "unique family time Table PC mode, it also doubles as a user's high performance, all-in-one 27-inch desktop" asserts the PR blurb. The Table PC apparently won more than 14 awards at this year's CES and Lenovo's market research suggests "Horizon fills a need to connect families around one device for a truly shared computing experience over the solitary computing nature of most other devices."
The IdeaCentre Horizon runs Windows 8 but the "Aura interface", which you see demonstrated in the above video, it is automatically activated in Table-mode when you lay the PC flat on its back. Stand the PC up using the built-in kickstand and you have a regular large Windows 8 powered touchscreen AiO PC.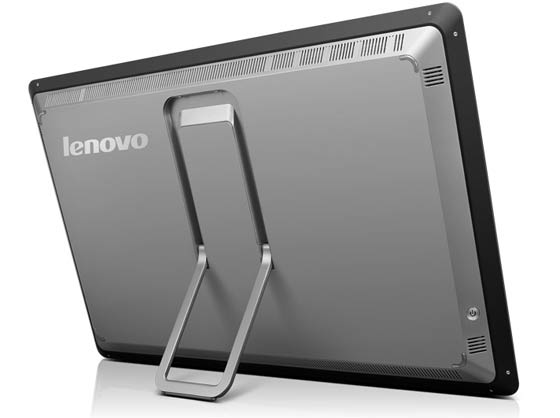 A number of interesting accessories come with every Lenovo table-PC. "To bridge the physical and the digital worlds, Horizon comes with a special set of on-the-glass accessories including an e-dice and up to four joysticks and strikers (no batteries required) for a different kind of game play." The video does make these look fun in the games that support such items.
Currently Lenovo are offering two pre-configured IdeaCentre All In One Horizon 27 Table PCs. The cheapest version is $1,699 and is powered by a 3rd Generation Intel Core i5-3337U processor, it comes complete with 1 eDice + 2 Strikers + 2 Joysticks. The other model, which costs $1,849 has a 3rd Generation Intel Core i7-3537U Processor and ships with 1 eDice + 4 Strikers + 4 Joysticks. All other specifications remain the same between models. Having said that let's have a quick run through the specs of these new Table PCs:
Processor: Intel i5 or i7 as described above
Display: 27" All In One FHD AntiGlare with Multi-touch 1920x1080
Graphics: NVIDIA GeForce GT620M 2GB
Memory: 8.0GB PC3-12800 DDR3 SDRAM 1600 MHz
Storage: 1TB 5400 rpm HDD
Connectivity: HDMI-in, 6-in-1 card reader, Broadcom 11b/g/n Wi-Fi wireless, USB 3.0
A/V: Dolby® Speakers with Home Theater® v4, Integrated 720P HD Camera
Battery: 8 Cell Lithium-Polymer, lasts around 2 hours
Accessories: eDice, Strikers and Joysticks as described above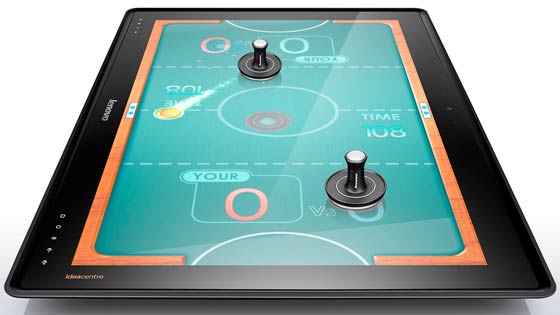 Overall it's an interesting 27-inch all-in-one (AiO) with extra "table-PC" functionality. Depending upon its pricing when it hits retail, and subsequent deductions and offers, this may be a good choice for some families considering buying a regular large screen AiO. A quick look at US prices for existing 27-inch AiO machines finds Lenovo's launch price to be pretty fair.