EVGA has begun a new cashback promotion. The firm is offering €25 cashback on purchases of its GeForce GTX 960 graphics cards from now until the 2nd August 2015. In the UK £20 can be claimed back on a purchase. Residents of EU and EEA countries, Switzerland, and Turkey will get cashback of 25 Euros or equivalent in their own currencies. You must purchase the graphics card from a qualifying retailer. In the UK these include; SCAN, Aria, Novatech, CCL Online, and Dabs. A PayPal account is required to receive the cashback.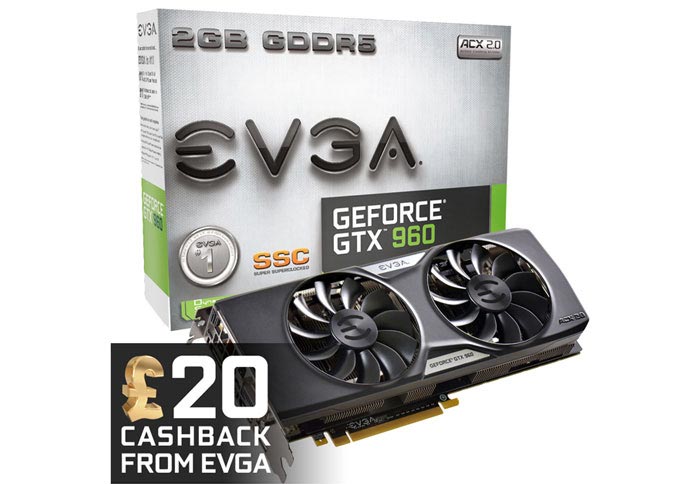 HEXUS has published a number of reviews looking at various AiB manufacturers' take on the GeForce GTX 960. We even tested a pair of EVGA GeForce GTX 960 SSCs in 2-way SLI. A single card is eminently suitable for 1080p gaming. Two in SLI performed very nicely in our tests and you could enjoy GeForce GTX 980-rivalling 4K UHD frame rates in Tomb Raider, for example. With the current promotion in place you could get such an SLI graphics setup for under £300.

A full range of EVGA GeForce GTX 960 graphics cards is included in the cashback offer. SCAN, for example, has five different models which you can buy and claim the cashback for. The £159 (minus £20 cashback) 2GB EVGA GTX 960 SC ITX is the cheapest, though currently out of stock, on pre-order, at SCAN. The EVGA GTX 960 SSC SuperSuperClocked ACX 2.0+, as in our SLI review, is also included in the promotion, as are the 2GB GTX 960 FTW ACX 2.0+, the 4GB GTX 960 SuperSC ACX 2.0+ and the 4GB GTX 960 FTW ACX 2.0+ which is the most expensive such card at £210 before cashback.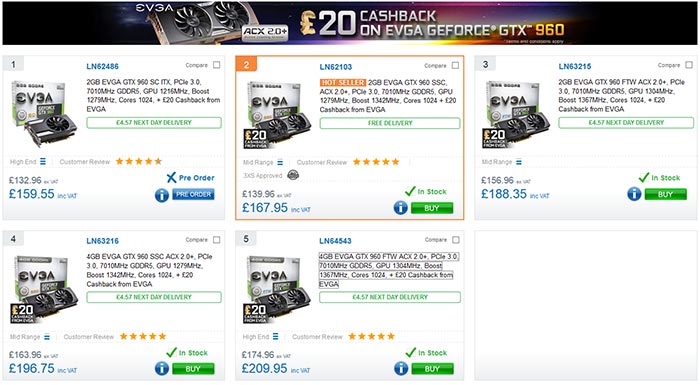 If you are considering one of EVGA's GTX 960s the firm encourages you to look closely at one of the models sporting an ACX 2.0+ cooler. If you are unfamiliar with this cooler, its fans don't spin up until the GPU passes 60C, it features a full sized Memory MOSFET Cooling Plate, a Quick Switch Dual BIOS, an Optimised Power Target performance system and triple 8mm straight heat pipes.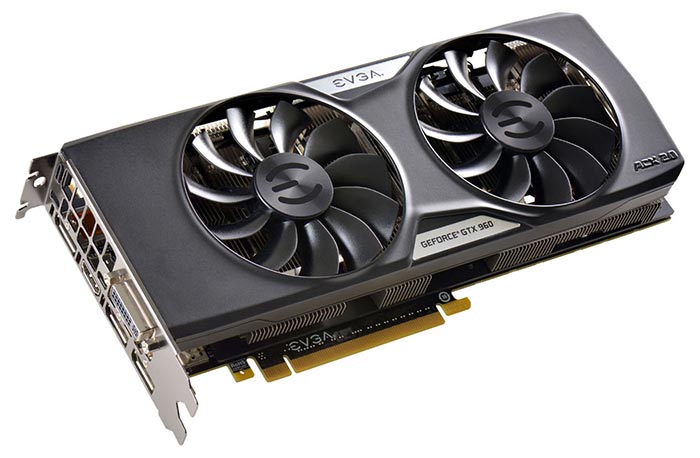 Full T&Cs of the EVGA cashback offer and link-list of participating e-tailers in and around Europe can be found on EVGA's promo page.