It has been discovered (translation) that "many retailers" in Germany are selling Nvidia GeForce GT 440 graphics cards in GeForce GTX 660 clothing. As well as the obvious packaging and presentation deception the VGA BIOS misreports the spec of the fake cards, however other tools on your PC will be able to see through that digital deceit.
These 'bargain' graphics cards have been benchmarked and offered up about a quarter of the performance of a real GTX 660. That tallies with the GT 440's much reduced shader count, and use of slower DDR3 memory, among other poorer specs of the Fermi generation GF106.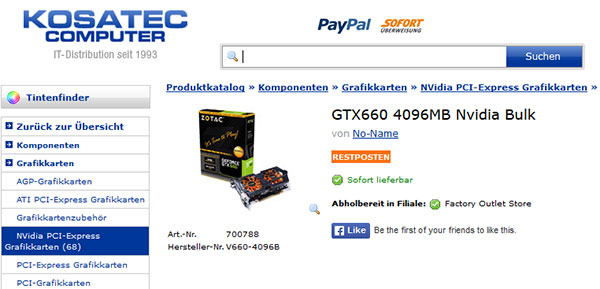 Kosatec's original bulk retailing listing
The cards were apparently bought direct from China by German wholesaler Kosatec and sold on "to numerous German online stores," including Jacob Elektronik. Heise.de reports that the original listing for these 'Nvidia GTX660 4096MB Bulk' graphics cards was accompanied by a picture of a retail GTX 660 card from ZOTAC (as above). Since the discovery of the fakery ZOTAC has threatened legal action.
When Kosatec was pressed for the original source of its 'Nvidia GTX660 4096MB Bulk' stocks it responded that it received them direct from manufacturer Point of View. However further investigation by Heise.de reveals that POV deny both selling the cards and that the cards are of its manufacture: the serial number naming scheme doesn't match POV's scheme.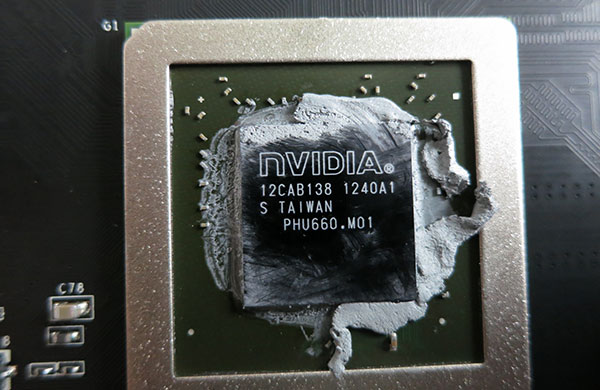 The GPU found on the dodgy cards
Now it seems that Nvidia is on the case. It should be able to find where the chips fitted to these cards came from using the serial numbers found upon the GPUs. While we await the outcome of that investigation, if any is made public, Heise.de says buyers should return their 'Nvidia GTX660 4096MB Bulk' graphics cards to retailers for refunds.