Doing anything interesting this weekend?
Well, you could be by checking out the latest tech at Scan's brand new showroom in Middlebrook, Bolton.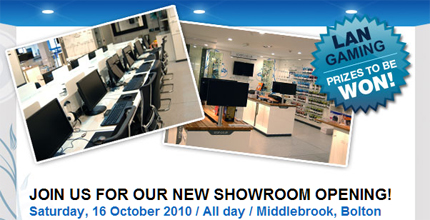 To celebrate the opening of its new-look doors, the award-winning retailer is running a free Open Day chock full of competitions, prizes and one-time discounts.
You'll be able to demo the latest hardware, take part in gaming competitions with the world-renowned Team Dignitas, grab a 10% discount off all in store purchases on ASUS laptops and netbooks, and much more!
Calendar and diary at hand? All the important details are below and at Scan.co.uk.
Where: Scan Computers International, 25-28 Enterprise Park, Middlebrook, Horwich, Bolton, BL6 6PE
When: Saturday October 16, all day
Why: Go hands-on with the latest tech, enter gaming competitions, get yourself a discount, meet the HEXUS team!