Last Wednesday we saw Nvidia launch the "world's fastest gaming GPU" the GeForce GTX 1080 Ti. Alongside the news of the tech enhancements and performance improvements delivered by the new graphics card we received news that the previous champ, the GTX 1080, would receive a significant price cut.
In monetary terms the GTX 1080 would be reduced in MSRP to $499, while the new performance king (which is said to be as much as 35 per cent better in AAA games) GTX 1080 Ti hit the market at $699. Dollar to pound tech product conversions have always been woeful and with the pound struggling to stay above $1.22 the last time I checked things didn't look good for GTX 1080 discounts over this side of the pond.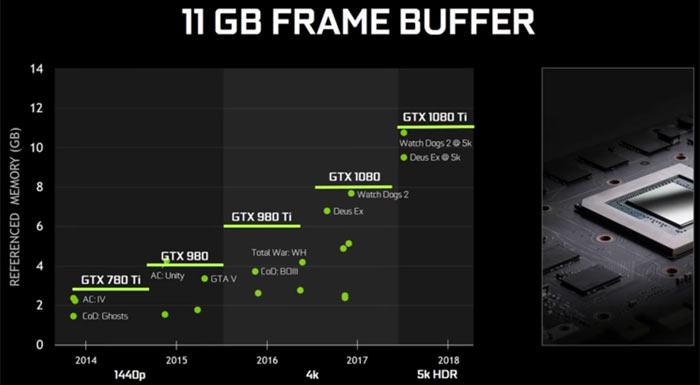 I've done a bit of checking around and the Nvidia GTX 1080 price cuts in the UK are, despite the pound's weakness, looking pretty good. If you are in the market for an Nvidia graphics card for 1440p or 4K gaming then the new prices at your favourite e-tailers such as; SCAN, OCUK, Amazon, Box, eBuyer, Aria, or Novatech could be tempting. I've spotted a number of third party cooler equipped GTX 1080 cards for well under £500.
If you like the Asus Strix graphics cards, there are extra sweeteners to be had. For example the Asus Strix 1080 Advanced A8G Gaming retailed between £669 and £699 last week, depending upon retailer. Now it's available for £579. It doesn't stop there, as Asus is currently running a £50 cashback promo on sales of this graphics card in the UK. Purchases between now and the 31st March qualify but the card must be purchased from a participating reseller, as listed on the linked page. With the £50 discount applied you could end up with the Asus Strix 1080 Advanced A8G Gaming card costing you 'just' £529.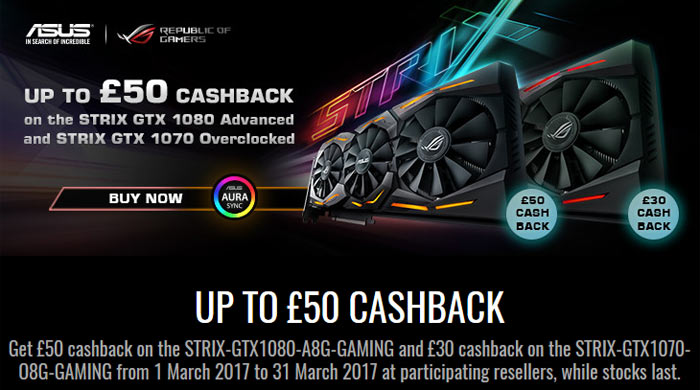 The launch of the GTX 1080 Ti hasn't has such a big impact upon GTX 1070 pricing. However, there have been some signs of easing in prices for this SKU. This is likely to be as demand is slipping - those who wanted a GTX 1070 at the price set have mostly already bought one. Thus Nvidia and its partners cast the net slightly lower. Again, Asus has a promotion for those who fancy the Strix GTX 1070 O8G Gaming. This card retails at places such as SCAN for £429 currently, down from £449. However with the £30 cashback promo you can snag it for an effective £399.
Here's all the links from Asus for you:
Buy from SCAN
Buy from OCUK
Buy from AMAZON
Buy from BOX
Buy from eBuyer
Buy from Aria
Buy from Novatech
Asus AMD Radeon RX400 series deals
If you are more inclined to buy an AMD Polaris graphics card at this current time, Asus doesn't have any cashback deals on but it is touting "Amazing offers on ASUS RX480, RX470 and RX460 GPUs from our reseller partners". Examples of the promo offers are; an Asus Radeon RX 480 Dual OC 4096MB card at £149 and the same card with 8GB for £188 (both at OCUK). Furthermore there's the Asus Strix RX480 8GB card available at eBuyer for £228. Remember that these AMD RX 480 cards currently include a free copy of DOOM.