Amazon Prime on offer in run up to Black Friday
For a limited time Amazon is cutting the price of its year-long Prime subscriptions to £59. The price cut will be available to new sign-ups from Sunday 15th, to Wednesday 18th November at midnight. It's a strategy to get more people on board in the run up to the lucrative Black Friday and, of course, Xmas and January Sales seasons.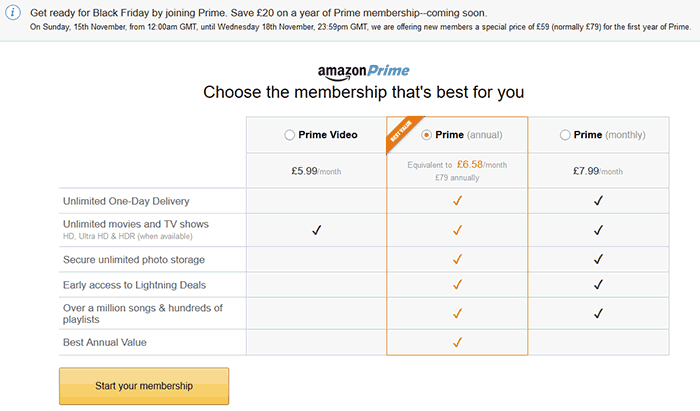 Amazon Prime offers an increasing amount of benefits beyond its original free one-day delivery remit. Subscribers can enjoy a varied selection of films and TV series, access to a large music streaming library, Kindle book lending library, unlimited photo storage and early access to lightning deals, which sometimes have limited quantities on offer. Prime subscribers in some cities, such as London and Birmingham also have access to a range of good available within the hour.
Last year Amazon sold 64 items a second on Black Friday, with more than 5.5 million items ordered in total, reports the Telegraph. Over 7,000 lightning deals will be available this year.
Amazon Pantry
Amazon Pantry has launched nationwide today in the UK. This is an extra service exclusively for Amazon Prime members. The service aims to please purchasers by "replenishing the often bulky basics and store cupboard essentials that people need every day". Amazon Pantry can provide over 4,000 low-priced everyday essentials in everyday sizes, including food and drink, household supplies, baby and child care, pet, and health and beauty products.

Customers choose as many or as few Pantry products as they like to fill up a box, weighing as much as 20Kg, for £2.99. The goods are delivered within one day. If you wish to make a very large order which busts past the 20Kg and box capacity limit it costs 99p per extra box in the same order. Amazon doesn't specify the box dimensions (it doesn't look very big) but the online system shows you how much space you have left in a box.

Amazon Pantry brands include:
Food – Heinz, Kellogg's, Walkers, Uncle Ben's and Tilda
Drink – Robinsons, Nescafé, Kronenbourg and Glenfiddich
Household – Ariel, Persil, Andrex and Fairy
Baby & Child – Huggies, Pampers and Johnson's Baby
Pet – Pedigree, Purina and Whiskas
Health & Beauty – Dove, Pantene, Gillette and Colgate
If you are an Amazon Prime member and/or interested in Amazon Pantry, head over to the dedicated landing page and take a browse.