Amazon has opened its storefront for digital downloads of software and video games in the UK. The site is currently in a beta testing phase but all "primary features should all be functional, so feel free to search, browse and buy your favourite games," says Amazon. Currently the store boasts more than 600 software and video games titles which are available for immediate download gratification to your PC or Mac. The store also facilitates pre-orders.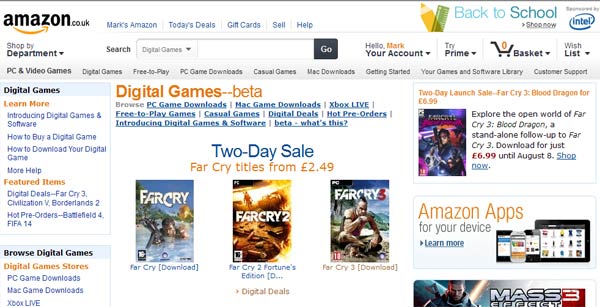 Amazon UK's download store for games includes popular modern titles such as Tomb Raider, Far Cry 3, The Sims 3, Borderlands 2 and Mass Effect 3 all purchasable and immediately downloadable, "no more waiting for the package to arrive". Amazon also lists a growing selection of Free-to-Play games. For both these kinds of games Amazon will also facilitate the sale of DLC, points, game objects and currency for use in the games.
Amazon UK's download store for software is also open, ready for business, but in a beta testing period. The store includes such famous name software as Microsoft Office, Adobe Creative Suite, Rosetta Stone and Sage Instant Accounts.
Interestingly, Amazon stores all your software and video game downloads in your digital content library along with product keys so you can re-download it at any time (subject to product licence limitations).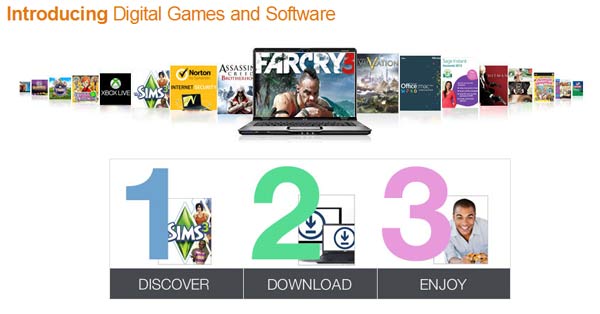 Amazon has published a page introducing the new digital games and software download service. This page explains what is on offer and how to use the service in easy and simple steps.
It's good to have another competitor in the digital downloads market and a big one at that. Some of the game prices I browsed were pretty competitive, like Far Cry 3 is currently on offer for £10.