The SkyDrive cloud storage service from Microsoft has had a major refresh, as announced yesterday on the Windows Steam Blog. You can see the refresh for yourself in the pictures/video below or if you have a Skydrive account just pop along to the Skydrive web page to check out the new look and feel. The update isn't just in the web interface; "refined SkyDrive apps for PCs and Macs, a new SkyDrive app for Android devices, and improved developer offerings" are also being served up.
As a refresher, Microsoft's Skydrive is a cloud storage service; Microsoft's version of iCloud, Google Drive or DropBox etc. The nearest competitor is Google's product because of the built-in office productivity tools. Skydrive comes with 7GB of free storage with paid upgrade subscription options.
If you like the design of Outlook.com and think that works well for you, including its Modern UI, then you will be pleased with the SkyDrive online redesign. The new look helps unify the new Windows 8 platform appearance and operability across Windows devices. Also it serves as another Microsoft app for other platforms that advertises/showcases the intuitiveness of the "Modern UI" compared to the device OS hosting the app.
Here's a bulleted list of the upgrades and improvements
SkyDrive.com - New, modern design for desktop and tablet browsers with instant search, contextual toolbar, thumbnail multi-select, drag-and-drop organization, and HTML5 sorting
SkyDrive for Windows desktop & OS X - Faster uploads for people around the world and tons of bug and performance improvements under the hood
SkyDrive for Android - A new app that lets you access, upload and share from Android phones
SkyDrive for developers - Apps built using our SkyDrive API can now store or access any type of file in a person's SkyDrive, plus there's a new, easy-to-use file picker API for websites (similar to our file picker for Windows 8 apps)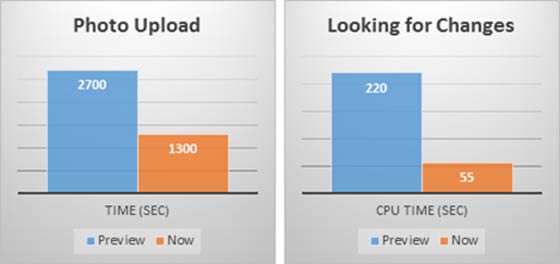 Photo updating and file syncing improvements
Alongside the updates you can see at the user end, Microsoft has been working on the back end capability and making the SkyDrive service "…ready for a billion users - in time for the upcoming releases of Windows 8, the new Outlook.com, and the new Office".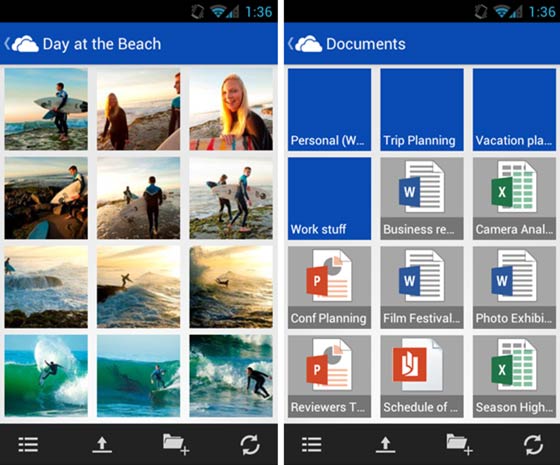 SkyDrive for Android

The SkyDrive for Android app isn't being released right now but will be made available in a few weeks, you can see a screenshot of SkyDrive for Android above. It looks and works similarly to the Windows Phone and iOS app versions facilitating SkyDrive browsing, uploading and sharing of files and links to files.