There aren't many places that Amazon hasn't managed to get its Kindle software - it's even announced plans to develop an app for the forthcoming RIM PlayBook, which only launched yesterday.
However, for PC users the only way to access an e-book collection was by downloading the company's software - which isn't even available for Linux. No more, though, as the company has announced the launch of the Kindle for the Web beta.
The embedded reader is built using JavaScript, which should mean it's accessible to just about everyone with a computer. As the scheme rolls out, certain books (electronic or otherwise) will get a new "Read first chapter for free" button, launching the new interface and allowing potential purchasers to read the first few pages of a book. Obviously this will replace the current system for previewing a book's first chapter.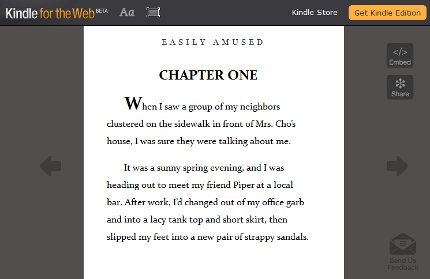 The new platform can also be embedded into sites, which should be especially useful for some blogs and websites. Moreover, if a user goes on to buy the book after previewing it on an third-party site, the owner will receive a small cut of the proceeds.
Amazon is making sure that its Kindle platform is accessible to as wide an audience as possible and it's good to see that Linux users can finally get in on the action. It would probably be useful for some mobile platforms as well, but there aren't many operating systems left that don't already have a native Kindle app.
More details can be found at the Kindle for the Web site, as well as examples of sample books from John Miller and Karen McQuestion in case you're curious as to how it works.