The BBC has today launched a new beta version of its hugely-popular iPlayer service.
The third-generation website, available to all users at beta.bbc.co.uk, will run alongside the existing iPlayer site whilst the BBC collects feedback and potential bug reports.
Redesigned to make iPlayer "simpler to use, personalised and social," the new-look service opens it doors to other networks in an attempt to attract a wider audience from sites such as Facebook and Twitter.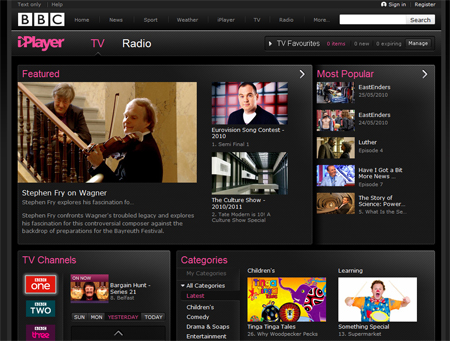 Starting today, users will be able to recommend shows or episodes to friends with the click of a button. In order to do so, however, users will be required to login using a BBC ID - which itself will then allow users to link their Twitter or Facebook accounts, and other third-party services in future.
Users are also now able to bookmark shows as favourites, and those who've registered with a BBC ID will then be able to make use of their favourites across multiple platforms - including mobile phones and games consoles.
In a first for iPlayer, the BBC will also collaborate with rival broadcasters to allow users to find non-BBC programming direct from the iPlayer site. The feature, expected to be added at a later date, will allow users to find shows on ITV, Channel 4, Five, S4C and video-on-demand service SeeSaw, and provide links redirecting users to the applicable service. The BBC has already agreed deals with ITV Player, 4oD, Five on Demand, S4C Clic and SeeSaw, but adds that other service providers - including Sky - could be added in future.
Continuing its efforts to tie in with other popular services, the new iPlayer allows users of Microsoft's Windows Live Messenger to watch programmes simultaneously, with a built-in chat window allowing friends to discuss the show.
A bigger emphasis has been put on live TV broadcasts, with prominent links to the BBC's 10 channels featuring on the iPlayer homepage, and video quality on all shows is said to have been improved via the implementation of a new adaptive bitrate system.
The iPlayer beta is available to all users at beta.bbc.co.uk/iplayer.