Amazon has announced its third annual Prime Day deals event. The Prime Day 2017 event is advertised as kicking off on 11th July. However, to be more accurate, it starts at 6pm PT/9pm ET on Monday, 10 July (6pm in the UK too) and runs for a very generous day of 30 hours. This year Prime Day's reach has grown and it will run across 13 countries.
To make the most of this Amazon shopping event you need to be an Amazon Prime member and this too is on offer. From today until 3rd July you can join Amazon Prime for a year for £59 in the UK, other territories like the USA appear to be offering a 30 day trial followed by a $99 per annum subscription.

Amazon Prime subscribers get exclusive access to special deals during the Prime shopping event but also for the duration of their membership receive free next day delivery (in UK) on many Amazon purchases, free same day delivery one some items (UK again), plus the following content consumption benefits (which may also vary, depending on region):
Prime Video - films and TV shows to stream for free
Prime Music - access to millions of songs
Prime Reading - free ebooks, comics and magazines
Twitch Prime - ad free viewing
Prime Photos - unlimited photo storage
And more
The 13 countries with Amazon Prime day events are; the US, UK, Spain, Mexico, Japan, Italy, India, Germany, France, China, Canada, Belgium and Austria. Greg Greeley, Vice President, Amazon Prime said that as well as making the promotion geographically more inclusive "This year's Prime Day is too big for 24 hours – so we're giving Prime members 30 hours to shop!"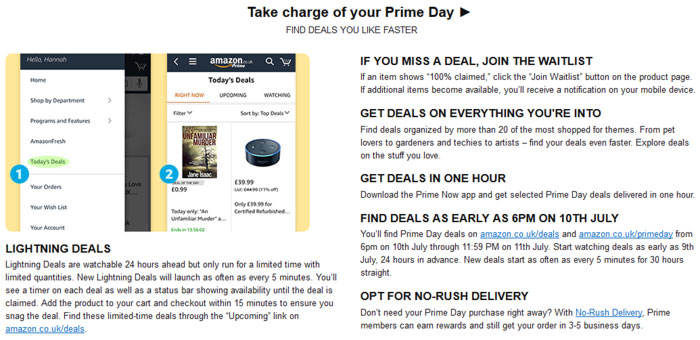 This year Amazon's deals will come in 20 themed waves, so there will be times when offers will focus on technology, pets, gardening and so on. In its US press release Amazon is already promising a 'Big TV Deal' with various TV sets and streaming boxes on offer. If you already have an Amazon Alexa-powered device you will get exclusive deals via that channel and be able to shop by voice.