A recent report compiled by Hardware.fr sought to rank PC components by their reliability. The stats come from LDLC. Hardware.fr said it was "able to directly extract the statistics we needed," as it was given direct access to the online retailer's databases.
Due to the time needed for products to come in to stock and enjoy some retail exposure it is said that some of them have since been superseded by newer models. The reliability of a product comes down to the one statistic of RMA rate. Hardware.fr admits that not everything returned this way might actually be faulty but some products are taken back after a short Q&A with technician and customer and others are actually tested upon return. Statistics by brand are based upon a minimum of 500 units sold, individual products need 100 sales to become rated. If you read the charts directly on Hardware.fr - a product which is italicised has sold more than 100 units but less than 200.
There's lots of interesting breakdowns in the figures showing brands, chipset types etc and products including Motherboards, Power supplies, RAM, Graphics Cards, Hard disks and SSDs are all analysed. You can look at the full article here.
Meanwhile both Gigabyte and MSI have been crowing about their respective triumphs in the reliability survey.
Gigabyte was very proud with its motherboard reliability figures. The Gigabyte Tech Daily blog published some charts showing how Gigabyte has held the top spot in the same reliability survey for the past two years. It's all down to the "Ultra Durable design," we are told.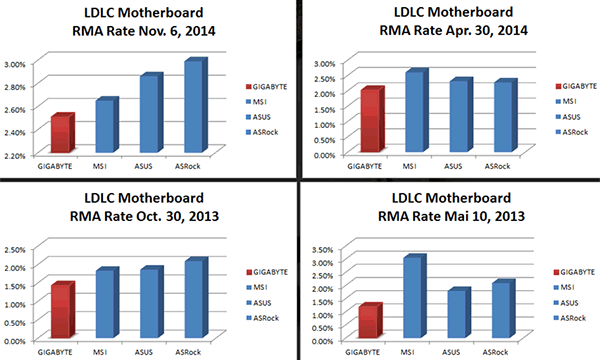 MSI also sought to show off its good rating with a Facebook post. MSI makes the most reliable graphics cards, according to the recent survey. The firm also did very well in motherboards with only a fraction of a per cent more RMAs than top dog Gigabyte. "We are proud to report that #MSI graphics cards is the undisputed number one in reliability and MSI motherboards climb to the number 2 position," said MSI.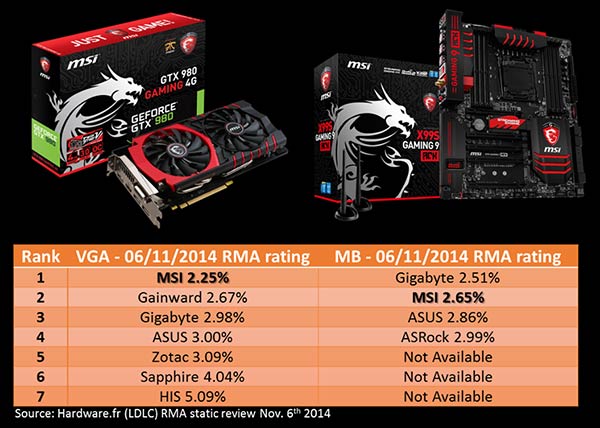 As mentioned in the intro, Hardware.fr also looks at; SSDs where Samsung comes out on top overall, power supplies with FSP Group and be quiet! within a whisker of each other for top spot, RAM where Kingston is most reliable, and Hard Disks with Seagate as the most reliable performer.