Cast your mind back a fortnight and we saw a dramatic drop in Nvidia's share price as the company pre-warned investors that its fiscal Q4 would be under par. At that time it stated that the previous guidance of $2.7bn had been overly optimistic, and it was expecting just $2.2bn revenue for the three months ending 31st January. Shares dropped 14 per cent in afterhours trading after that shock news. Nvidia blamed the downturn in crypto mining, a downturn in China, and lower than expected sales of new high-end Turing graphics cards from the misstep.
Now the green team's bean counters have had time to finish fiddling with their abacuses and have pleased investors with better than expected revenue for the Q4 FY 2019 period. Better than the revised guidance, that is. Please check the official summary table below:

Since the above was published Nvidia shares have shot up between 7 and 8 per cent, in afterhours trading. At about $165 at the time of writing, that's a lot better than the $131 on the day after the pre-warning at the end of January, and the $160 from the Friday before that.
Reuters notes that the actual revenue of $2.21 bn was an improvement on $2.20 bn investors expected after the warnings. Even better, the company earned 80 cents per share, well above consensus estimates of 75 cents. Furthermore, looking at the yearly figures in the charts things are on the up as a whole, but optimism might have just got a bit ahead of itself during the last year.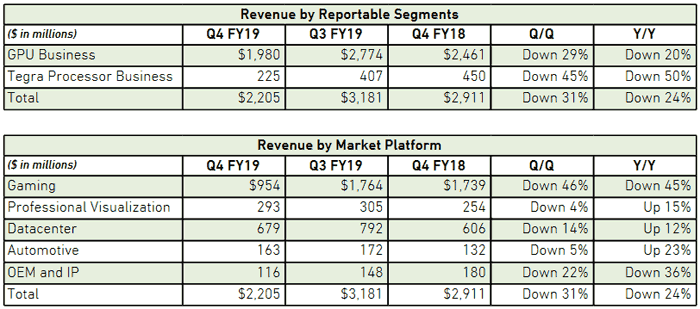 I like how analyst Ivan Feinseth of Tigress Financial Partners, quoted by Reuters, explained the investor positivity: "Not-as-bad-as-feared has replaced the better-than-expected for a lot of companies this earnings season". Additionally Nvidia CEO Jensen Huang assured us that "Nvidia's fundamental position and the markets we serve are strong," and summed up the past year as being "a great year," but with a turbulent close.
During the preceding quarter Nvidia introduced the most accessibly priced RTX 20 graphics card, the GeForce RTX 2060. Some other significant moves from the company in PC gaming were the record 40+ new gaming laptops with RTX GPUs launched at CES, and expanding G-Sync to play nicely with FreeSync monitors. Nvidia also mentioned the introduction of RTX graphics in Battlefield V, with more RTX and DLSS games in their final stages of development.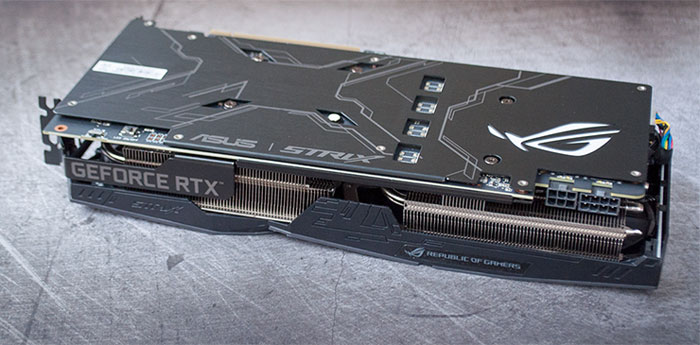 It will be interesting to see if Nvidia's successors to the GTX 1060 and lower echelon cards will be inspiring enough to the mass market PC gamer to really set its sales and gaming results alight during the coming few months. Remember that the GeForce GTX 1060 and 1050 cards account for nearly 30 per cent of the GPUs in active Steam gaming rigs.