A Photography Companion
Building on the core functionality, WD includes a DLNA media server to make it easier to share multimedia content, and there's also an FTP option, so WiFi-enabled cameras can be configured to automatically upload photos to the drive.
For the sake of simplicity, automatic SD card imports can be enabled via a toggle in the 'Media' settings menu, with an option to copy or move by default - the latter deletes files from the card after they are transferred. There's no means of triggering an SD card import through hardware buttons, so for users wanting to clear up space frequently without having to login to a PC or tablet, the automatic transfer is a valuable tool.
What's handy is that the My Passport Wireless can also be used as a straightforward SD card reader - the contents of any inserted card show up in Windows Explorer - which is great for quickly showing snaps to clients, though we couldn't achieve the same results on iOS. On an iPad, the contents of the SD card needed to be copied over to the WD drive prior to viewing.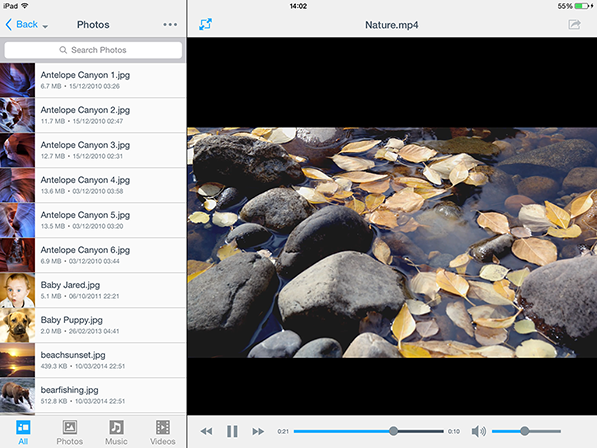 On the whole, the My Passport Wireless is easy to setup and the supporting WD My Cloud mobile app brings a reasonable amount of functionality to any iOS (pictured) or Android device.
Though not as comprehensive as the PC dashboard, the lightweight app lets you browse the contents of the drive, as well as create new folders and upload files. We like the fact that content can be filtered for photos, music or video, and the search facility makes it easy to find the file you're looking for. However, photo thumbnails are somewhat slow to load, and as stated earlier, it isn't possible to browse the contents of an SD card from within the iOS app.
File support is limited to the capabilities of the host device, but provided your format is supported, you shouldn't have any speed/bandwidth-related concerns. We were easily able to stream 1080p HD videos to two devices at once with no hint of stutter.
Performance
Drive performance is in line with expectations. When attached directly to a PC via USB 3.0 (yes, the My Passport Wireless works just fine as a regular external hard drive) we were able to achieve read and write speeds of 109MB/s and 108MB/s, respectively.
That's a fraction ahead of the 108MB/s and 104MB/s achieved by the rival Seagate Wireless Plus, yet while performance is decent, users in the market for an external drive should note that unlike the wired My Passport Ultra, WD's wireless offering doesn't offer out-the-box support for hardware encryption.
The speed of WD's underlying hard disk is ample for a device of this ilk, but what may fall short of expectations is the built-in battery. We're told to expect "up to six hours of continuous video streaming and up to 20 hours of standby time," but in practise we ran out of power after exactly five hours of multimedia playback. Enough juice to get through a movie, maybe two, however you will want to keep the USB cable at hand as regular charging will be needed.
Summary
WD is the latest manufacturer to enter the wireless storage market and does so with a My Passport Wireless that is competent in most regards. Capable as an external USB 3.0 hard drive and able to share content over the air with up to eight devices, the compact and lightweight accessory could be a valuable tool to mobile users who frequently run out of space.
Offering something a little different to many of its competitors, WD integrates an SD card reader and in doing so has created a companion device that offers genuine appeal to photographers. The ability to backup your images and keep snapping while on the go is very attractive, and automated transfers help simplify the process.
A built-in DLNA server and FTP functionality further expand the feature set, and the only potential stumbling block is battery life, which at roughly five hours isn't quite as long we'd hoped.
Fed-up of running out of room on a smartphone, tablet or SD card? Then the WD My Passport Wireless is well worth a go.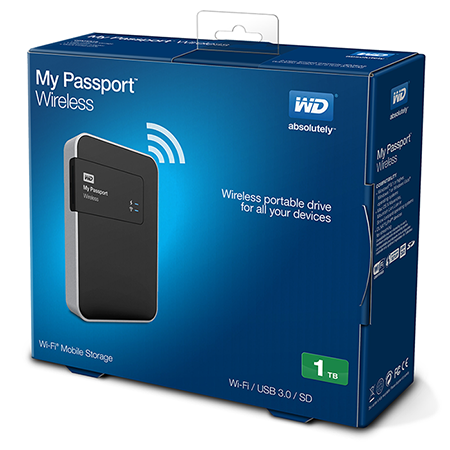 The Good

The Bad

Easy to setup and use
Automatic SD card backups
Built-in DLNA and FTP servers
Decent speeds via USB 3.0


Will need frequent charging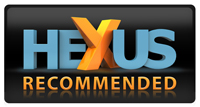 WD My Passport Wireless
HEXUS.where2buy
The WD My Passport Wireless is available to purchase from the WD Store, Ebuyer, Dabs and Amazon UK.
HEXUS.right2reply
At HEXUS, we invite the companies whose products we test to comment on our articles. If any company representatives for the products reviewed choose to respond, we'll publish their commentary here verbatim.