What's it like to use
Performance
First off, we can compare the performance of the Voyager Air 2 against the popular Seagate Wireless Plus in a number of throughput benchmarks
Benchmark Performance

Corsair Voyager Air 2

Seagate Wireless Plus

Sequential read (MB/s)

113.2

107.6

Sequential write (MB/s)

111.7

104.3

Mixed file transfer read (MB/s)

92

90.9

Mixed file transfer read (MB/s)

84.8

81.9

Virgin WiFi (Mbit/s)

35.7

31.8

Passthrough WiFi (Mbit/s)

9.9

7.95

Battery time (hours)

5.7

5.1
Transfer speed is about the same, limited by the potential of the 2.5in drive inside each sealed enclosure. Both are good at dealing with large files, characterised by the numbers found when running the AS SSD benchmark, and mixed files - 2,087 files totalling 3.35GB - when reading and writing. These numbers show the relative performance of the two when acting as regular USB drives.
Providing an Internet-passthrough function reduces the available bandwidth when compared with having an iPad 3 connected straight to a Virgin router. The reduction in speed is significant, but not enough, on one device, to hamper the playback of Netflix HD or BBC iPlayer HD. Corsair does a little better than Seagate in this instance.
Battery time is evaluated by loop-streaming a 1080p mp4 video until either wireless-storage player shuts down. Our evaluation shows you're likely to be able to watch a couple of high-definition videos without having to recharge the Voyager Air 2.
Interface
Using said iPad 3 as the target device, the iOS interface has been redesigned to offer a cleaner look and make it easier to navigate between sections. It feels like a native Apple program, which is the aim, and scrolling through sections is intuitive and nippy. There's not a lot new here; rather, it's a case of sprucing-up the appearance. Users of the original model will be glad to know that the updated software is supported on their first-generation device, too.
Files can be moved in both directions, to-and-fro the Air 2, and Corsair has tidied up some of the minor niggles we encountered when using the release software on the previous model. As always, operating-system limitations on the tablet side, selecting all files at once, for example, cannot be overcome by the streaming device; it merely acts as a conduit between the files and iPad.
We were able to play a 1080p mp4 video file from about 60 feet away without issue. We also had no problem in streaming the same content from the two furthest points in a medium-sized house. This means that, if at home, you should be able to stream judder-free content irrespective of where the Voyager Air 2 is located.
Recent firmware updates make the Voyager Air line DLNA compliant, meaning the media library can be shared amongst other devices using the same standard - think newer TVs, consoles and Blu-ray players. Cloud compatibility with Dropbox and Google Drive is available, as well, enabling the synchronisation and backup of content to remote servers.
Conclusion
Corsair has redesigned the Voyager Air 2's hardware appearance and software to offer a package that's more polished than its predecessor. Part 1TB external hard drive and part wireless storage for your iOS- or Android-powered tablet and smartphone, it's a useful accessory if you're continually running out of space or want to share content between a number of devices.
Priced at £125 and now competitively priced against Seagate's Wireless Plus, the Corsair Voyager Air 2's positive changes mean you should put it on your shortlist if you're after a multi-purpose storage and wireless device.
The Good
Hardware and software improvements over first-gen model
Now DLNA compliant
Very easy to use
The Bad
No wall charger included
HEXUS Awards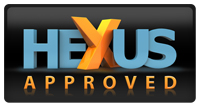 Corsair Voyager Air 2 1TB
HEXUS Where2Buy
The Corsair Voyager Air 2 is available to purchase from Scan Computers.*
HEXUS Right2Reply
At HEXUS, we invite the companies whose products we test to comment on our articles. If any company representatives for the products reviewed choose to respond, we'll publish their commentary here verbatim.