Hardware and software improvements
Corsair's initial foray into the burgeoning wireless-storage market arrived in the form of the Voyager Air last year. Housing a 1TB, 2.5in drive inside a chassis that also incorporated a LiPo battery and WiFi card - good for about six hours of mobile streaming usage - Corsair was up against some established competition from the likes of Seagate.
Good wirelessly-connected storage is more than just about picking the right hardware. Rather more important is the software interface and quality of applications present on the Apple iOS, Google Android and Amazon Kindle ecosystems. So while the original Voyager Air was good from a features point of view, the basic interface, though perfectly serviceable, lagged behind rivals'.
Corsair introduced a second-generation model, Voyager Air 2, a couple of months ago at the Computex trade show, a year on from the original release. It is now housed in a smarter chassis and bundled with overhauled software.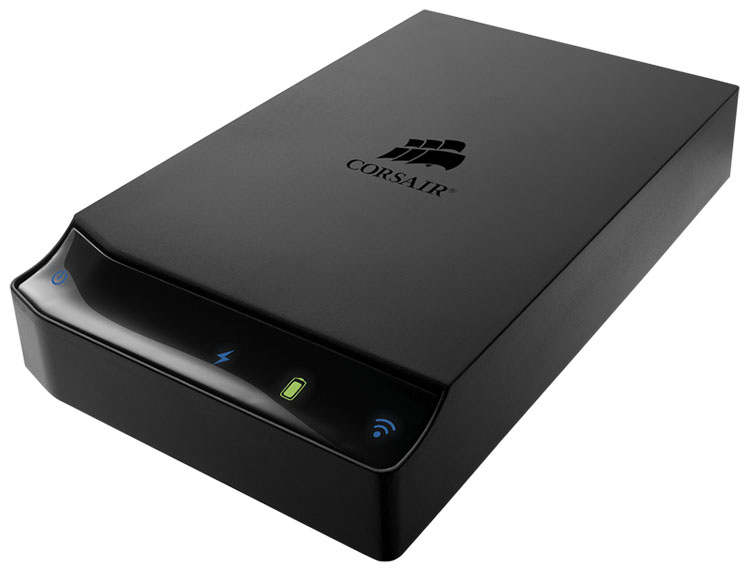 Gone is the angular front-end and obvious two-tone finish of the first model, replaced with an all-black top casing and easier-to-see activity lights, denoting mains charging, battery-level status and WiFi connectivity. The front fascia is also home to two hidden buttons on each side, used to switch the Air 2 on and to toggle the WiFi on and off, and the power button needs need to be pressed and held for two seconds for it to become active. Though performing exactly the same functions as the former model, it looks better this time around.

The surface is no longer reflective and build quality is a little better, matching that of Seagate and WD. The need to house the same type of hard drive means Air 2 is practically the same size, measuring 137mm long and 82mm wide. A rectangular rubber grip on the bottom makes it stand a little taller, at 30mm, however.
Adding a touch of colour, literally, the underside is accented in blue. It's lighter than what's shown in the picture but is only visible if you really look for it. A combination of mechanical hard drive and built-in battery - the same as the original, we believe, rated at 6,200mAh - pushes the weight up to 350g. It's a shame that Corsair doesn't bundle in a sleeve to protect the drive, and all that's included is a mini-USB 3.0 to USB 3.0 cable - acting as a charge (this time) as well as data-transfer conduit - and instruction guide. A wall charger and car charger, bundled in with the first-gen model, are available separately.
When in battery-powered mode, Corsair claims the unit can concurrently pump out HD-resolution (720p) movies to five iOS/Android devices, with battery life rated at up to seven hours. Connected to a PC, the Voyager Air 2 behaves as any other USB-attached storage drive, but you cannot use the wireless-beaming capability and USB 3.0 transfer at the same time. This means, for instance, it cannot act as a direct extension of your PC's media library.
These types of devices work by establishing a WiFi connection to tablets and smartphones via dedicated apps, though they can also be used on laptops through a web-based browser. In a home environment, the Voyager Air 2's WiFi connection substitutes the regular broadband one usually connected to, say, an iPad, and Corsair continues to offer an Internet-passthrough function whereby users can still surf the web and remain connected to the Air 2 for media-streaming purposes.

Observant readers may spot that Corsair has removed the Ethernet connection present on the first-gen device, so understand that a lack of hardwired networking precludes the use of the Voyager Air 2 as a fast NAS-like device. There's also no SD-card slot or additional USB port for expanding and accessing further storage, which are the two recommendations we made first time around.
The sample unit is unobtrusively quiet when switched on and beaming content over to a compatible device. The very gentle hum is impossible to hear if the unit is placed on a desk, with the rubber grip dampening vibrations and noise.
Corsair's hardware aim was to hit to a lower price point with the Voyager Air 2, enabling it to better compete with the other 1TB-equipped WiFi solutions available. Backed by the same three-year warranty and now available for £125, or £25 less than the original, Corsair says the real innovation arrives in the form of overhauled software, so let's take a peek.