Sexy Beast, Performance Predictions
All this talk of cores, speeds, feeds, Tesla-derived architecture and GPU Boost v2.0 may have you wondering if TITAN is the size of a tank.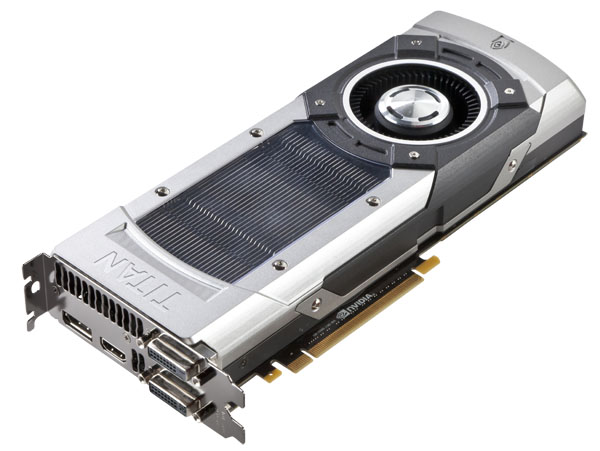 The design department behind the elegant looks of the twin-GPU GeForce GTX 690 has been let loose on TITAN. The two ultra-enthusiast cards share an industrial look that is beautifully engineered. An aluminium casing and polycarbonate window have been liberally pulled from GTX 690, while the larger, albeit single, vapour chamber dominates the centre. Those who liked the side lighting on the GTX 690, where the GeForce logo lights up green, will also see it in evidence here.
Measuring 10.5in long and taking up two slots, making it marginally smaller than GTX 690, an off-centre blower fan, 90mm in diameter, blows air across the stacked fins of the vapour chamber and out of the rear.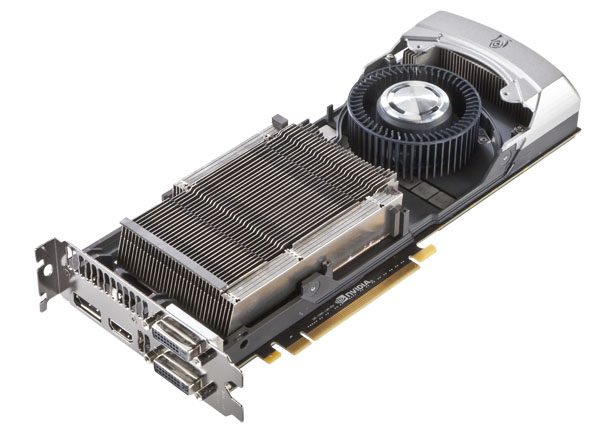 Slip off the top and general cooling construction comes into view. An entire card-wide plate sits between cooler, fan and PCB. NVIDIA says it has gone to such lengths in order to provide very quiet computing at speeds that no other single-GPU can match. The firm also believes that TITAN makes more sense in small-form-factor systems than, say, performance-optimised GTX 690, which, while quiet, runs at a comfortably higher TDP when at full chat.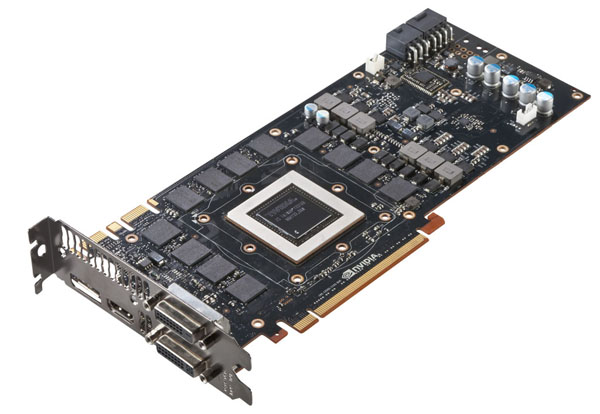 Stripping it bare shows the GK110 die flanked by 12 GDDR5 memory chips on the topside. A further 12 pieces line the flipside. NVIDIA, then, simply uses the same size and density of memory as found on GTX 680 GPUs, albeit increasing the number of modules from eight (totalling 2GB) to 24 (totalling 6GB).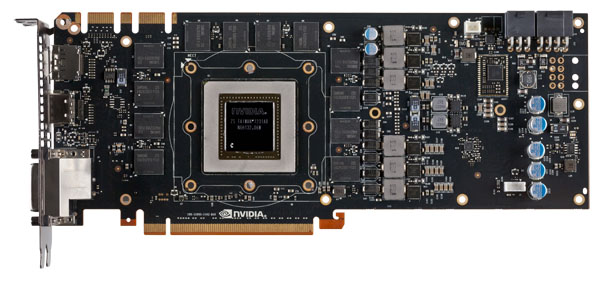 The large die and general layout elicit more than a passing resemblance to the aforementioned GeForce GTX 580. Both chips use 8+6-pin power plugs, house a 520mm² chip and, at launch, were the fastest single-GPUs of their ilk. It won't be lost on you that this 2,688-core beastie attracts a much higher price.
We've previously alluded to the TITAN perhaps not being as fast as the GTX 690 in a straight performance fist fight. The two SLI fingers on the top-left betray the ultimate performance leadership aspirations of the card. NVIDIA reports that three TITANs, harnessed in three-way SLI, can be considerably faster than two GTX 690s in four-way SLI (two cards with two GPUs on each card). Just be sure to have a spare £2,500 if planning on going down this 'Dream Machine' path.

Deciding not to meddle with what already works, four independent displays can be run off one card. Three of the four outputs can be used for Surround and 3D Surround multi-monitor shenanigans.
Performance predictions?
We're not allowed to release performance results of the TITAN card just yet. But there's nothing stopping us from conjecturing on probable performance. Basic horsepower, pulled from the table on the first page, indicates that TITAN has around 50 per cent more oomph than a GTX 680 once we've accounted for the lower core clocks. Understanding that the architecture is, for all intents and purposes, the same as GTX 680 leads us to believe that high-resolution, high IQ performance - what this card is designed for - will be between 40-60 per cent faster than said GTX 680.
Splitting it down the middle, a 50 per cent uptick clearly makes TITAN NVIDIA's fastest-ever consumer GPU, especially once GPU Boost v2.0's settings have been optimised for performance. Assuming the performance predictions hold true, TITAN is set to become the fastest single-GPU card around, beating Radeon HD 7970 GHz Edition into second place. And if you believe NVIDIA, it should be whisper-quiet while demolishing all other single-GPU cards.
There's little point in considering this card, or multiple cards, if you game at 1,920x1,080. This is the sort of hardware that's begging to be attached to a premium 4K display. A single-card price tag of £825 or so is also verging on the ludicrous, frankly, but NVIDIA isn't planning to sell tens of thousands of these; performance leadership is perhaps more important. Really, this card should be no more than £599, if that, but NVIDIA follows the Intel Extreme Edition pricing path and charges an exorbitant amount for a card that, it seems, has no performance peer.
Cutting past the hyperbole and stratospheric pricing, the real question on most enthusiasts' lips is whether this one single-GPU card is man enough to play Crysis 3 at high-quality settings. We'll let you know in due course.