Hercules Prophet 2 Ultra
Hercules 3D Prophet 2 Ultra 64MB
The Hercules Geforce 2 Ultra is, one of the select few Geforce Ultra cards available in the UK at the time of writing.


The Prophet 2 Ultra follows the Nvidia reference design in terms of clock speed to the letter, running at 250Mhz Core speed and 460Memory, Unlike previous Hercules offerings this is the regular speed for the Ultra chipset, Earlier Hercules offerings such as the GTS2 2 64Mb ran at over the Nvidia prescribed core speed, but with this model, they obviously decided to run at default settings, other than the chipset speed, Hercules did pack in the other extra's the DVI interface for flat panel monitors, and TV out is included, which is a bonus, not found on all Geforce 2 Ultra's.
The Hercules Ultra fits in a regular AGP slot, and fitted in my Abit KT7 with no problems at all, the blue heatsink's do look rather snazzy compared with the rest of the rather mundane heatsinks and green PCB's, it just makes me wish I had a clear case side on my computer so that people could see my cool blue heatsink's
Here is a selection of pictures of the Hercules Ultra in all it's Blue Glory hehe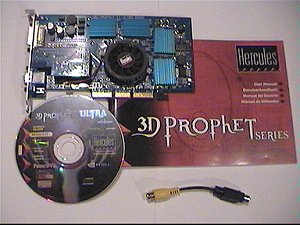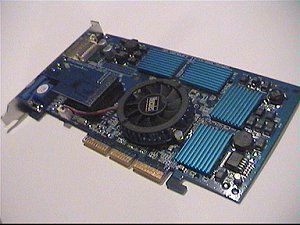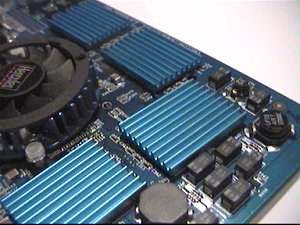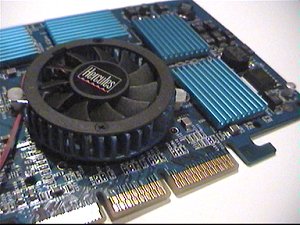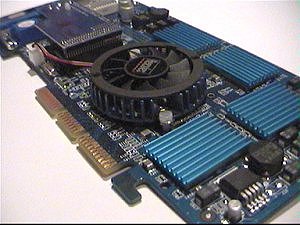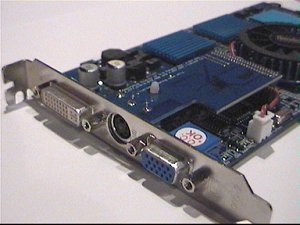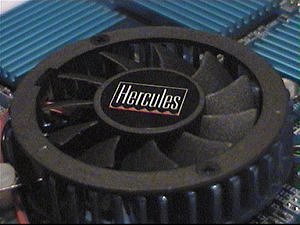 The Ultra features a bigger round heatsink to get rid of the extra heat that a 250Mhz core produces, On the overclocking side I found that the older Nvidia reference drivers, didn't allow as much overclocking at all, with driver set's older than 6.47 I could not increase the memory clock above 500Mhz without the screen picture disappearing and being replaced by lines all over the screen, I thought this was maybe a problem with the hardware or even the board design not being able to cope with over 500Mhz memory clock. but on experimenting with the different driverset's I tried detonator 3 version 6.47, and it worked at over 500Mhz in fact I was able to run it all the way up to 530Mhz !!. the core would work at up to 302Mhz and that was about as far as I got with overclocking.. Having said that I made the worlds fastest consumer video card even faster so that can't be a bad thing hehe. For the tests I used Nvidia 6.47, as they seem the most stable so far and allow me to overclock the graphics card properly.
Now that you have seen the card in question, lets see what it offers in the way of technical specs
Hercules Prophet 2 Ultra Specs
Powered by NVIDIA's latest high-end 3D graphics processor (latest 2nd generation GPU): GeForce2 Ultra, optimized for DDR memory
Superior Hercules expertise: optimized graphics card design and improved stability thanks to adapted Hercules RAM heatsinks

Ultra-fast 64MB DDR memory with specially adapted Hercules RAM heatsinks for turbo-boosted 3D performance in games requiring large texture buffers
4 dual-texturing pipelines, mapping 8 texels per clock cycle, resulting in better fluidity in games and more details
31.25 million triangles mapped per second
250MHz core clock, DDR RAM operating at 460MHz
4X AGP with Fast Writes support / AGP 2X compatible
NVIDIA's Shading Rasterizer, delivering per-pixel shading for realistic rendering of texture materials

Most advanced 3D functions and optimized support for OpenGL® (Silicon Graphics) and DirectX® 7 (Microsoft®) APIs: Cube environmental mapping, Bump mapping, Vertex blending, Projective textures, Texture compression, Lighting, Shading…

Hardware Full Scene Anti-Aliasing (FSAA)
Hardware Transform & Lighting Engines (T&L)
TV/Video Output for playback of DVD titles or games on your television: NTSC and PAL TV output in 640x480and 800x600
DVI-Output for high resolution display on digital monitors
Play DVD-Video on your PC with PowerDVD™ and the 3D Prophet II GTS Pro motion compensation hardware engine
Outstanding resolutions up to 2048x1536 in 16 million colors performed with a 350MHz RAMDAC
The Test Rig
Abit KT7 RAID
384MB Crucial PC133 RAM CAS 2
AMD Athlon T-Bird @ 1300Mhz 12.5*104Mhz & 7* 100Mhz @ 700Mhz
2* IBM Telesto 30.7 GIG ATA 100 Drives in RAID 0
Soundblaster Live 1024
Adaptec SCSI Card
Plextor 32 Speed SCSI CD ROM
19" CTX monitor
Microsoft Intellimouse Explorer Optical
Microsoft Natural Keyboard
To get the best from this card U obviously need a powerful PC, my PC which I used for the benchmarks fit's the bill nicely (O:
I was running Win98 SE and Via 4in1 service pack 4.25a with Nividia reference drivers 6.47. I also installed the Hercules 3D Tweaker from the Hercules Install CD, this basically brings all the Nvidia coolbits settings into one little applet, the one thing I didn't like was that it was a memory resident program that sits in your taskbar, this means it is a tiny bit faster to access, but for benchmarking I don't want any unnecessary programs running in the back ground, so I stuck with the old favourite "Nvidia CoolBits" reg file available here.
The Hercules 3D Tweaker, showing the default Ultra settings of 250 core 458Mhz memory, this is just below the regular 460Mhz default clock speed, within the margin of error, as the overclocking results show the Ultra is capable of a lot more speed any way.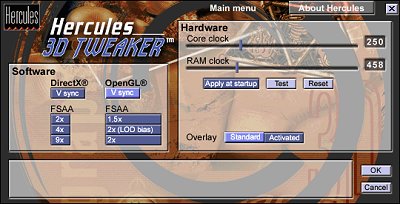 Nvidia Coolbits in action giving some added speed to the already very very fast Hercules Prophet Ultra 2