It's a looker
Intel has officially released the Z77 chipset today. Armed with an LGA1155 socket for use with 2nd generation Core chips and primed to support 3rd generation Core processors, codenamed Ivy Bridge, which are due out soon, every motherboard manufacturer is busy trying to convince punters to opt for their wares for the next PC upgrade or build.
It is usual to have a chipset launch alongside the chip it is primarily intended for, though Intel doesn't have its ducks in a row this time. This means it's difficult to fully evaluate Z77 boards when they can't be tested alongside the preferred CPUs. This state of affairs isn't stopping ASUS showcasing no fewer than 11 Z77 chipset-based boards on its site, and we have the high-end P8Z77-V DELUXE in the labs.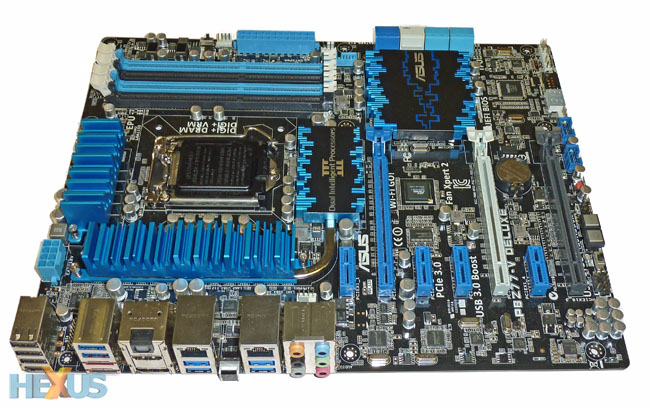 We're informed that full-ATX Z77 boards are to start at around £90 for basic models, rising to £250 for the Kitchen Sink™ editions. The P8Z77-V DELUXE is packed to the rafters with features, evinced by a busy layout even though Intel is now providing a few extra features through its chipset.
On top of what you would expect in a basic Z77 board, ASUS implements what it calls Dual Intelligent Processors, used to provide granular power to the chip. 16 phases are reserved for the CPU while four are dedicated for the iGPU. We know Intel's reference Z77 board doesn't get overly hot during use, but if a firm adds a number of extra processors and VRM units, as ASUS has done here, there's a manifest need to cool them. A thick chunk of aluminium is heatpipe-joined to a centrally-located heatsink; both are extremely well-built and screwed into the board rather than fastened by pushpins.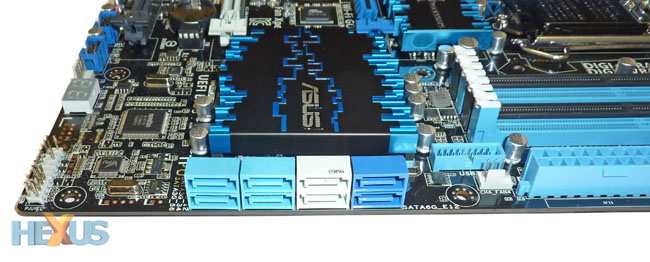 The DELUXE mode is all about providing a surfeit of features. Intel offers up four USB 3.0 ports through the heatsink-clad Panther Point chip; ASUS throws in four more from an ASMedia controller. The six SATA ports are also augmented by controllers from Marvell (providing two 6Gbps ports) and ASMedia, whose two eSATA offerings are seen on the back.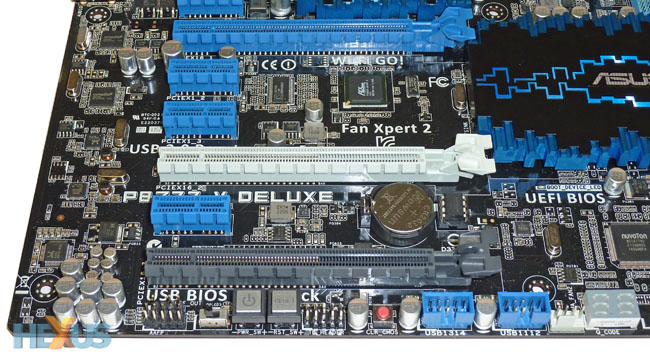 Talking about giving more, a standard Z77 board provides two mechanical x16 PCIe 3.0 slots that can be split into a couple of x8 for multi-GPU graphics. ASUS adds a third, at the bottom, enabling three cards to be run from either NVIDIA or AMD's stable. Sandy or Ivy Bridge chips only offer 16 PCIe lanes for graphics, so ASUS uses a PLX bridge chip to offer four more PCIe 2.0 lanes when the need arises, with any others going off to provide extra support for the numerous PCIe-connected peripherals. This support structure isn't ideal for anyone planning on running three high-end cards, clearly, and they'd be better advised to consider the X79 chipset instead.
Intel is still not going to provide explicit support for switching between a discrete card and the processor's IGP. This job, then, is left to the likes of LucidLogix. ASUS employs the premium MVP version of the firm's GPU-switching technology on this board. Moving further down, we like the debug LED, power/reset and clear CMOS buttons, and the six fan-headers should keep the even the most ardent of enthusiasts happy.
Readers familiar with the Z68 DELUXE version of this board may notice many similarities. One clear difference is with ASUS getting rid of the PCIc slots and supplanting them with modern-day PCIe x1.

We reckon that ASUS committed a faux pas by not having video outputs on the Z68 DELUXE board. This time around, ASUS includes both HDMI and DisplayPort. A second Gigabit LAN is also present, as is the handy BIOS-updating button that enables a BIOS to be uploaded without the need for a graphics card or CPU to be in the socket.
What you can't see here is ASUS also bundles in its dual-function WiFi-GO! box of tricks, connected in the space between the left-hand USB 2.0 and USB 3.0 ports. Hooked up to two also-bundled antennas, it offers WiFi and Bluetooth connectivity... with a twist. Apps are available from the Google Play and Apple's App Stores, enabling you to control the PC via a tablet or phone, as well as using the wireless technologies in their regular modes.
Summary
ASUS builds on much of what it has learned from previous DELUXE boards and constructs the Z77 variant accordingly. Chock-full of features though not particularly strong in the graphics department, it's a board targeted at folk who want to push upcoming Ivy Bridge chips to the limit. Just how good is this £200 board? We'll tell you in a short while when Intel gives the green light for the Core i7-3700K.