It's been almost a year to the day since Sapphire kicked off a new line of high-end Intel motherboards, and the manufacturer - despite being one of AMD's biggest partners - is showing no signs of letting up.
Continuing its focus on top-of-the-line Intel platforms, the company is today introducing its first enthusiast-class motherboard based on Intel's X79 chipset; the Pure Black X79N.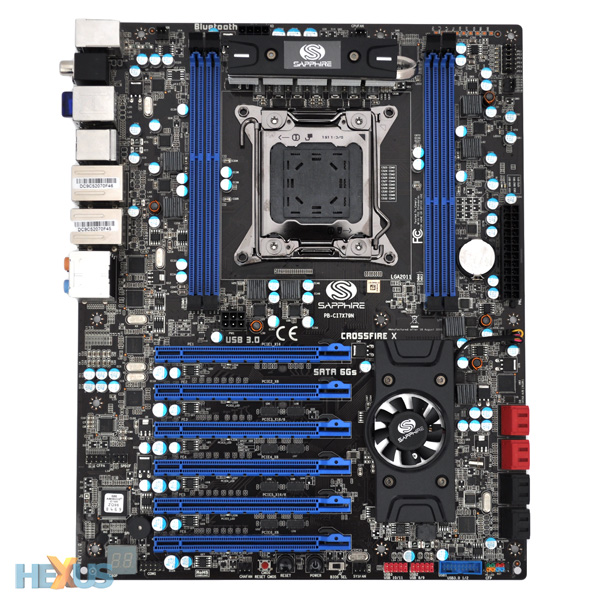 Let's start with the obvious; the Pure Black X79N isn't entirely black. Like Sapphire's previous Intel offerings, the standard-ATX board (305mm x 244mm) features a black PCB with blue, red and silver trimmings.
The blue-on-black colour scheme is quite pleasant, but the red's awkward, and the overall aesthetics suffer from the mis-matched colours. We wouldn't go as far as to call the X79N bad looking, but it isn't as eye catching as rival solutions.
However, what the board lacks in panache, it more than makes up for with a jam-packed feature list that includes six full-size PCI-express slots that are well served with bandwidth and paired with on-board jumpers that allow individual slots to be disabled.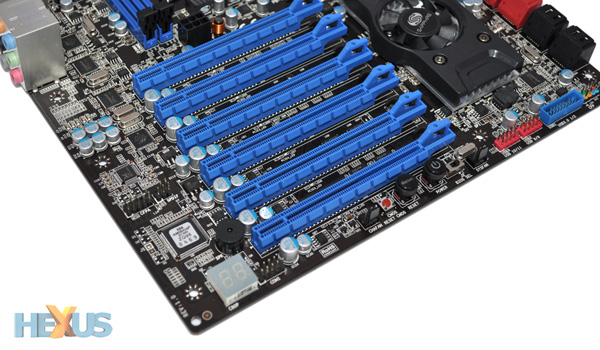 The Sandy Bridge Extreme processor already provides 40 PCIe lanes that can be apportioned for up to four graphics cards, but taking things further, Sapphire grabs 16 of those lanes and connects them to an NVIDIA nF200 bridge chip, which in turn multiplexes them and returns 32. Therefore, the X79N finds itself equipped with 24 lanes coming direct from the CPU, and 32 coming from NVIDIA's bridge chip, creating a total of 56 PCIe lanes spread across the half-a-dozen slots.
Remember, of course, that the first two slots - fed directly from the CPU - adhere to the PCIe 3.0 specification, while the remaining four are PCIe 2.5. Here's the complete PCIe slot configuration in table form:
| Slot | Channel | Bandwidth |
| --- | --- | --- |
| PCIE 1 | CPU x16 | G2 x16 (Gen3 ready) |
| PCIE 2 | CPU x8 | G2 x8 (Gen3 ready) |
| PCIE 3 | nF200 CHA x16/x8 | G2 x16/x8 |
| PCIE 4 | nF200 CHA x8 | G2 x8 |
| PCIE 5 | nF200 CHB x16/x8 | G2 x16/x8 |
| PCIE 6 | nF200 CHB x8 | G2 x8 |
There are a wealth of expansion capabilities on offer; users can run three graphics cards at x16, x16, x16 using the first, third and fifth slots, or six single-slot graphics cards at x16, x8, x8, x8, x8, x8. Handy if you're planning some sort of elaborate folding farm, but there's one catch - despite using an NVIDIA bridging chip, Sapphire doesn't offer SLI support - it's CrossFire only, so multi-GPU gaming solutions based on NVIDIA GeForce cards are out of the question.
The lack of SLI is a real shame for a board as high-end as this, and Sapphire has also decided to offer only four quad-channel DIMM slots. The board supports up to 32GB of DDR3 memory - which is admittedly overkill for most users - but there's no hiding from the fact that alternative X79 boards come equipped with an 8-DIMM design that can facilitate a staggering 64GB of RAM.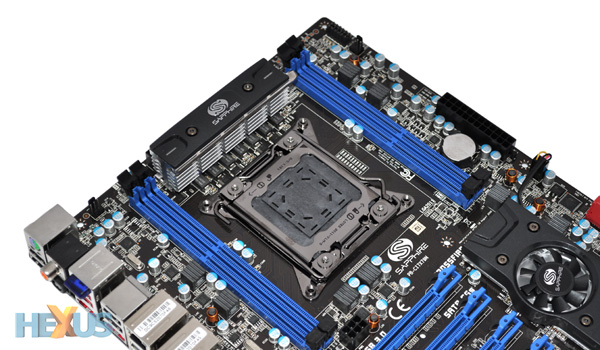 Still, there's plenty of room around the LGA2011 socket for aftermarket coolers, and Sapphire has implemented a strong selection of overclocker-friendly features. The CPU is fed by a server-grade digital 6+1 power phase, while a 2+2 phase VDIMM power design is in place for system memory.
Power delivery is geared toward overclocking, and there won't be a lack of it. In addition to the standard 24-pin ATX power connector, an eight-pin EPS connector delivers juice to the CPU, and a dedicated six-pin PCIe connector is at hand to supply an extra 12V of power to the PCIe slots when multiple graphics cards are installed.
As you'd expect on an enthusiast-class Sapphire motherboard, there are dedicated power and reset buttons, a clear CMOS switch, a dual BIOS switch, a POST LED diagnostics display that can also be configured to show temperature, dedicated voltage read points, Black Diamond Chokes, and a new UEFI BIOS. On-board cooling takes the form of a heatsink just north of the CPU, as well as a heatsink-plus-40mm fan attached to the X79 chipset and nF200 bridge chip. If you're worried about noise, the fan can be unplugged from a standard three-pin header.
Speaking of fans, a four-pin header is available for your CPU cooler, and a further four three-pin headers are available for chassis fans (five if you include the header used by the bundled 40mm fan).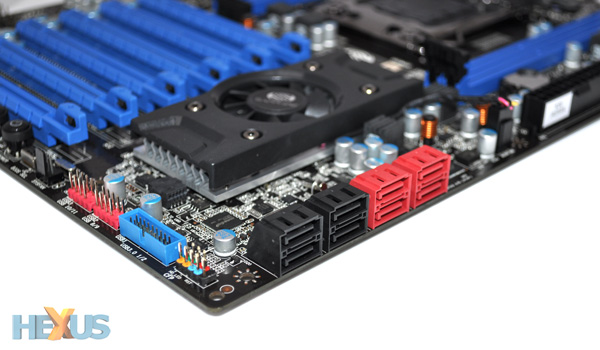 Continuing the more-is-better trend, the Pure Black X79N offers a total of eight internal SATA connectors. Two 6Gbps connectors and four 3Gbps connectors are powered by the Intel chipset, while a Marvell 88SE9128 controller powers the remaining two SATA 6Gbps ports and two eSATA ports on the rear I/O.
And the number of added internal extras doesn't stop there. Sapphire has included three Asmedia ASM1042 USB 3.0 controllers, a pair of Marvell Yukon 88E8057 PCIe Gigabit Ethernet controllers, a Atheros AR3011 Bluetooth 2.1 chip, and a Realtek ALC 892 eight-channel audio codec.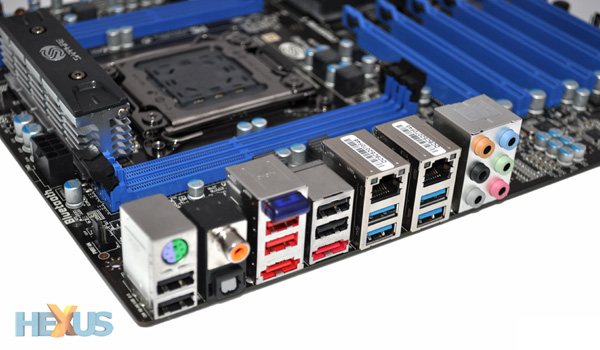 Factor in all of the aforementioned, and you get an I/O panel armed with six USB 2.0 ports (a further four are available internally), four SuperSpeed USB 3.0 ports (another two are available via an internal header), two eSATA ports, dual Gigabit ethernet, Bluetooth 2.1, a PS/2 keyboard/mouse combo port, and a choice of analogue, coaxial and optical audio outputs.
There's no denying that the X79N is a mighty-fine board, but it faces two immediate obstacles; the lack of SLI support is an obvious concern; and like many X79 boards - if not the Sandy Bridge Extreme platform as a whole - price will be an issue. We've yet to get an MSRP from Sapphire, but if we had to hazard a guess, we reckon you'll be paying close to £300 for this kind of extreme high-end goodness.