ASUS provided us with a full-production TUF Sabertooth X79 motherboard prior to the launch of the Sandy Bridge E chips. The previous generation X58 board became something of a hit, marrying solid stability and performance to an enviable £150 price tag.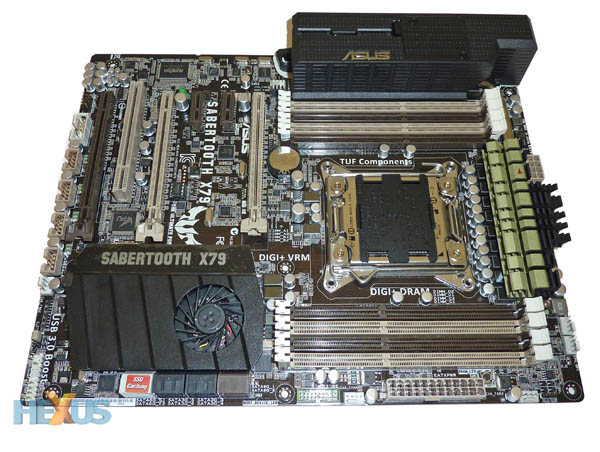 The X79 model carries the same five-year warranty present on other Sabertooth boards and keeps the distinct livery intact. The colour scheme is like Marmite: you'll either love it or loathe it. This time around, ASUS has amped everything up another notch, and attention is immediately drawn to the enclosed cooling on the far side.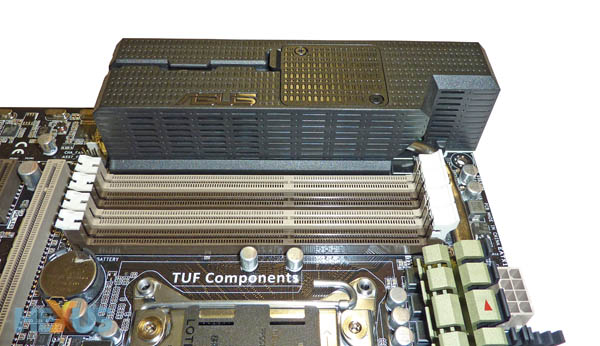 Though not of much practical benefit when running at stock speeds, overclocking, especially via voltage increases, causes on-board temperatures to spiral. Sabertooth X79 looks to keep these in check by actively cooling the heatpipe-connected power regulation components located under the light-green heatsink. Their heat is drawn past the DIMM locks and through to the rectangular section on the far side, where sits a top-mounted 40mm fan that pushes air over a bunch of heatpipe-connected aluminium fins and out of the back through a TUF-specific I/O shield.
The 'thermal armour' design isn't as all-encompassing as, say, the P67 Sabertooth's, and the reason is that ASUS has limited space to play with once the socket and DIMM slots have been put into the equation.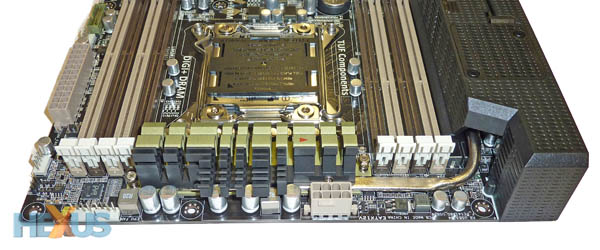 Remember the quad-channel memory setup of the Sandy Bridge Extreme chip? It works by populating one DIMM per channel and most boards, including the Sabertooth, will run with four DIMMs either side of the huge LGA2011 socket. Memory needs to be installed in the same-coloured slots on both sides - they're not in the same location, mind - to make up the optimum four channels, and ASUS supports DDR3-1,866 off the bat.
ASUS now extends the digital power control, dubbed DIGI+, to the memory-controller and memory as well as the CPU. The premise here is to deliver more-granular, stable voltages to the key parts of the board.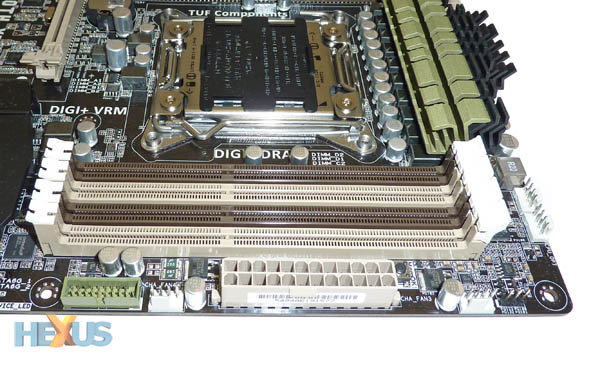 Lots of fan headers around the edge of the board and good locations for the 24-pin and eight-pin CPU plugs makes for a clean design. There's no issue in fitting a standard LGA2011 cooler and removal of DIMM slots, and this is impressive given the board is presented in a standard ATX form factor.
Layout is surprisingly decent for a board whose mid-section is reserved almost entirely for the CPU, but remember that Intel has now stripped away the need for a traditional southbridge - everything's contained in one chip.

Sabertooth is also well-specced from a general standpoint. On top of the four SATA 3Gbps and two SATA 6Gbps ports powered by the chipset, ASUS throws in a couple of SATA 6Gbps from Marvell, but what's more interesting is the inclusion of the company's own SSD caching on these two white-coloured ports - a technology similar to Smart Response - and reckoned to be better than Intel's solution as a performance-boosting SSD can be connected at any time, not just during installation.
A second fan is enclosed in a plastic-topped heatsink that covers the X79 chipset. Again 40mm in size its speed can be regulated in the BIOS (it can be unplugged if the noise is annoying). Supporting the various fans and giving enthusiasts something to while away the time, there are 12 sensors sensibly dotted around board whose readings can be viewed through a bundled Windows app.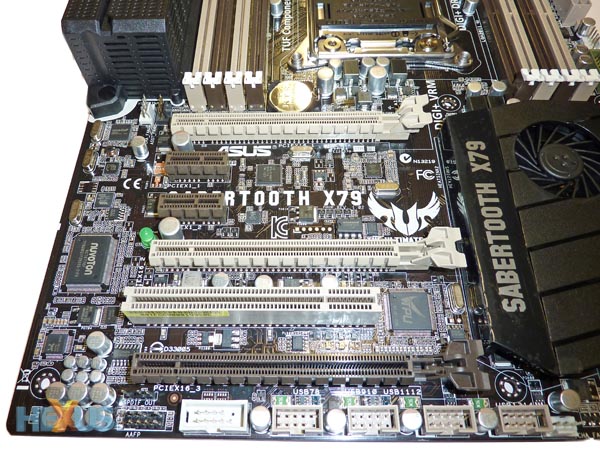 Sabertooth's raison d'être isn't about ultimate graphics performance; the Rampage is the one to go for if quad-board running is your thing. Here, three x16 PCIe slots provide three-way multi-GPU usage in a x16, x16, x8 arrangement, making full use of X79's additional PCIe lanes. TUF X79 is PCIe 3.0-ready, according to ASUS, though, of course, such cards are yet to materialise.
Cards fit nicely over the right-hand heatsink though putting a large GPU in the topmost slot, which most will do, effectively blocks the fan right off. Perhaps it could do with being moved down a few centimetres? The upper PCIe x1 slot's positioning is such that it can get blocked off by a double-width card.

Four USB 3.0 ports are shown on the rear. Sabertooth adds in three ASMedia controllers for six-port support, meaning the remaining duo can be accessed by an on-board header, primed for an ASUS front-panel box, which is located next to the DIMM slots.
We like the look and feel of the Sabertooth X79. Layout is pretty good, it's armed with a sensible, but not over-the-top, array of features, and feels as if it's built to last. But what's much more difficult to stomach is the £250 retail price. Yup, this is no bargain, which isn't a criticism of ASUS per se as all initial X79 boards will cost £200-plus. Stay tuned for the full review.