GeForce GT 830 and GT 840
Nvidia is today releasing six mobile GeForce 800M-series GPUs designed for thin-and-light laptops through to desktop-replacement machines. These new GPUs will replace incumbent 700M-class parts present in laptops shipping for the last year.
The entry-level GeForce GT 830M and GeForce GT 840M GPUs are based on the Maxwell architecture that first debuted with the desktop GeForce GTX 750 Ti. Nvidia isn't revealing specifications of these mobile GPUs other than to say they're up to 35 per cent faster than the previous generation and up to 4x faster than the HD Graphics 4400 found in an Intel Core i5-4200U processor.
Underscoring Maxwell's efficiency, Nvidia points out that a laptop equipped with an Intel Core i5-4200U processor and GeForce GT 840M graphics pulls about the same gaming power consumption as the 4200U running its own IGP and considerably less than a Core i7-4750HQ featuring the better Iris Pro Graphics...while still delivering Intel-beating gaming performance. The message here is that a discrete 800M-class of GPU is both faster and potentially more energy-efficient than Intel's much-improved graphics when gaming. During idle periods, all GTX 800M GPUs take advantage of established Optimus technology to hand over video output to the IGP.
Performance mobile GTX graphics
Moving on, the performance GTX line is comprised of four new GPUs: GTX 850M, 860M, 870M and 880M. The first two are also based on the latest Maxwell architecture while GTX 870M and 880M retain the Kepler blueprint. We've lined up the GTX quartet alongside the previous-generation GTX 700M parts for easy comparison.
Nvidia GeForce Mobile comparisons

mGPU

Architecture

Cores

Frequency (MHz)

Memory speed (MHz)

Memory bus width (Bits)

SLI

Performance uplift (per cent)

GTX 880M

Kepler

1,536

954+

5,000

256

Yes

15

GTX 780M

Kepler

1,536

823

5,000

256

Yes

-

GTX 870M

Kepler

1,344

941+

5,000

192

Yes

30

GTX 770M

Kepler

960

811

4,000

192

Yes

-

GTX 860M

Maxwell

1,152

797+

5,000

128

Yes

40

GTX 760M

Kepler

768

657

4,000

128

Yes

-

GTX 850M

Maxwell

640

936+

5,000

128

No

60

GTX 750M

Kepler

384

967

5,000

128

Yes

-
All 8-series mobile GPUs have baked-in GPU Boost but Nvidia isn't detailing the exact frequencies, most likely because they will depend on the particular laptop the GPU is housed in and the cooling employed by the manufacturer. This state of affairs is standard practise for the industry.
Let's take the GeForce GTX 800M GPUs and compare them against the same-model parts from the 7-series. GTX 880M is a faster-clocked version of the current performance champ, GTX 780M. Nvidia says the new GPU is up to 15 per cent faster due to the elevated core clock, helped on further by GPU Boost. GTX 870M's uplift, meanwhile, is higher because it uses more cores - 1,344 vs. 960 - and is clocked in higher than its predecessor. Expect to see a 30 per cent improvement at, we were told, the same sort of TDPs.
We already know the Maxwell architecture can do more than Kepler with fewer cores. Nvidia bolsters the GTX 860M with more cores and higher frequencies for the shaders and memory. Architecture and frequency upticks result in a potential 40 per cent performance improvement over GTX 760M.
Maxwell is also in evidence with the GTX 850M. The same formula is adopted for this basic GTX chip, with more cores and higher speeds. Nvidia says there's an impressive 60 per cent performance jump across generations, based on a weighted average of running Far Cry 3, Skyrim and Tomb Raider. Putting the numbers into context, a GTX 850M GPU, suitable for thin-and-light laptops, is as fast as a range-topping, power-hungry GTX 580M from three years' ago. But this launch isn't all about improving the pure performance of GeForce GTX mobile GPUs.
Battery Boost
Nvidia is also debuting a new technology called Battery Boost that's only available on GeForce GTX 800M GPUs; Nvidia says there are, in some cases, hardware considerations that make it unsuitable for older 7-series GPUs. The premise behind Battery Boost is that while laptops function well enough when plugged into the mains - gaming is smooth on a reasonable-spec machine - the mobile, on-battery experience can leave a lot to be desired, particularly with regards to length of playing time. Most laptops stutter into hibernation after 90 minutes of wire-free gaming, some even quicker than this, so there's a clear need to improve the on-the-go experience.
Battery Boost is an umbrella term for a collection of Nvidia technologies that extend mobile gaming time. When unplugged, most laptops equipped with decent discrete graphics tend to burn through a lot of power - CPU and GPU - in trying to replicate mains-connected performance. The GPU throttles to a degree, the CPU reduces voltage and frequency, but, arguably, the frame-rates produced from a GeForce GTX 870M is often higher than it strictly needs to be.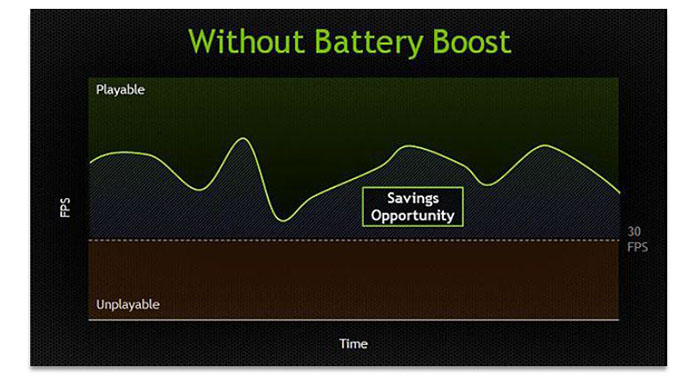 In a nutshell, transparent to the user, and automatically activated as soon as the laptop is unplugged from the mains, Battery Boost reduces system-wide power to the minimum level where gaming can still be considered smooth. Nvidia pegs this level to 30fps and uses GeForce Experience know-how to control the framer-rate. But Battery Boost goes further than this and examines the way in which the CPU, memory and GPU interact with one other as each frame is rendered.
This, however, is where the technology becomes hazy, because Nvidia is deliberately not spilling any fine-grained details, but one can infer that each frame is considered on its own merit and, say, if the output is considered CPU bound the GPU might be reduced in speed and power to a larger degree than would otherwise be the case. Nvidia would go as far as to say that Battery Boost uses driver-level governors and intelligent algorithms to pinpoint excess power consumption that doesn't necessarily improve performance. The idea is to streamline the process such that no watt is needlessly wasted.
With Battery Boost built into the driver, users will be able to set chosen frame-rate targets and image-quality settings from within the control panel, with lower IQ and a conservative frame-rate target translating to longer battery life. The actual longevity benefit of Battery Boost is dependent upon how graphically intensive the game is; it is reasonable to suppose that there's no huge uptick in battery life when playing Crysis 3, which pushes mobile GPUs hard, compared to simpler rendering in League of Legends and Star Craft II.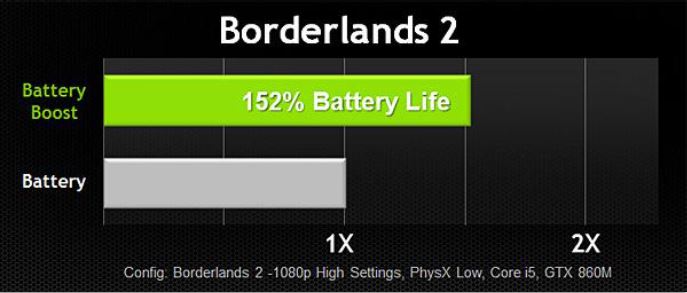 Up to 2x the gaming time
Offering up some numbers, Nvidia says that when compared to a standard notebook without Battery Boost capability, users can expect a 50 per cent increase in mobile runtime for semi-GPU-intensive games, rising to nearly 100 per cent in League of Legends.
Battery Boost is a first-generation technology that has, in our opinion, genuine real-world potential. We can see it working alongside future G-Sync-enabled laptop panels and thus facilitating visually smooth gameplay at what would normally be considered borderline frame-rates.
It's often easy to be impressed with PowerPoint presentations that liberally hint at fundamental improvements in one generation to the next. On the face of it, however, the combination of beefed-up mobile GTX GPUs at the high-end and Maxwell-powered, energy-efficient mGPUs for mainstream and entry-level gaming machines promises better mains-connected performance than ever before. This is to be expected, one could argue, but the simultaneous introduction of Battery Boost, a complementary technology, goes some way in addressing the mains-free gaming problem that's always existed.
We'll know more when a slew of GeForce 800M-powered laptops pass through the labs, but as it stands right now, there's cautious reason to be optimistic about mobile gaming on a laptop.