Microsoft has just finished its special Surface event. Perhaps the stars of the show were the Surface Studio AiO PC and the intriguing new Surface Dial input peripheral. Both of these devices are said to be designed to "empower a new wave of creativity" a theme running thought Microsoft's presentation.
Microsoft Surface Studio
The Microsoft Surface Studio is the firm's first AiO computer and it looks set to go head to head against that favourite among creatives, the Apple iMac. Microsoft's new PC is packed with cool technology and the firm goes as far as calling it "a new class of device" thanks to the way that it is said to present the user a powerful digital canvas and create "a more natural and immersive way to create on the thinnest display ever built".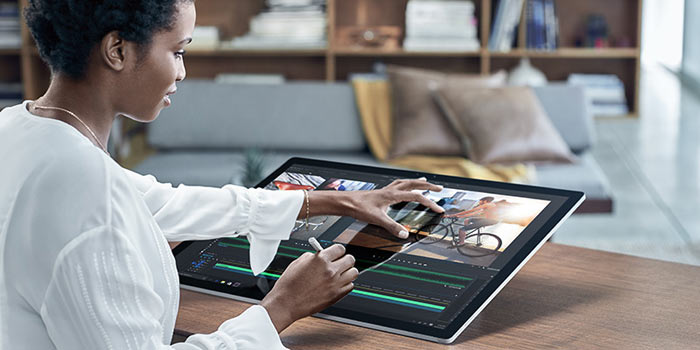 So we've heard the spiel what about the specs? This AiO is based around an ultra-thin 28-inch adjustable PixelSense Display. Microsoft's choice of display panel is a 4500 x 3000 (192 DPI) unit with a 3:2 aspect ratio. The screen supports 10-point multi-touch (and the Surface Pen), can show over a billion different colours, and supports individually colour calibrated Adobe sRGB, DCI-P3 and Vivid Colour profiles. Supporting the screen is a zero gravity hinge for ease of manoeuvre. The display part of the AiO measures 637.35 x 438.90 x 11.4 mm.
Inside the base unit there are pleasingly powerful components such as; your choice of 6th Gen quad-core Intel Core i5 or i7 processor, and a choice between an Nvidia GeForce GTX 965M with 2GB GDDR5 or GeForce GTX 980M with 4GB GDDR5 memory. System memory can be configured from 8, to 16, or 32GB. Storage options are between a 1TB or 2TB hybrid SSHD. This processing unit forms the base of the AiO and measures 250.00 x 220.00 x 32.20 mm. Together, the base and monitor weigh 9.56Kg.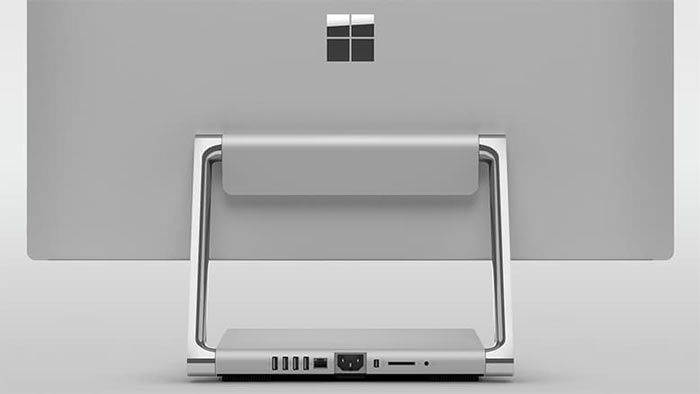 Rounding off the package the Surface Studio features a good selection of network connectivity options, multimedia components, and various ports. You can find the full list of specs on the official product pages however the most newsworthy inclusions are a Windows Hello face sign-in camera at 5.0MP, and built-in support for Xbox One wireless controllers.
It doesn't seem to be available via Microsoft's UK site at this time but the Surface Studio is listed in the US as being available from 15th December and you can pre-order it stateside right now. Pricing is between $2999 and $4199 depending upon your processor, RAM and GPU choices.

Microsoft Surface Dial
This new input peripheral is supported by the new Microsoft Studio AiO. It is, as its name suggests, an physical circular dial. Microsoft says the dial facilitates creative use of both hands on the Surface Studio. In general the Surface Dial works as a controller for scrolling, zooming, rotating and navigation, as well as adjusting audio volume.
In app specific digital tools it can be used as a granular controller for shortcuts and so on. You can place it on the desk or upon the AiO display for context sensitive tweaking of settings via a radial menu.
In the video above you can see the Surface Dial in use via tools written by app partners. In one example we see the Dial being used alongside the Surface Pen for quick intuitive adjustment of colours, tools, nib sizes and so on.
The Surface Dial becomes available on 10th November for $99, and will be supported by older Surface devices too.