Back in April we saw MSI launch a new line of compact desktop gaming PCs called the MSI Aegis range. Now MSI has followed up with its user-choice friendly Aegis and Aegis X barebone systems, said to be available immediately.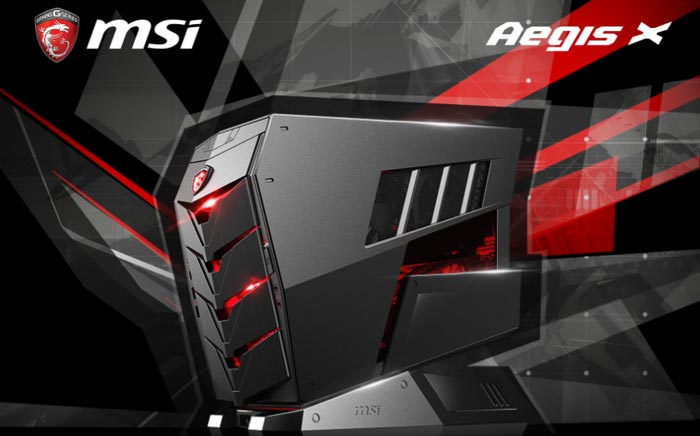 So what the MSI Aegis is and what it looks like isn't news, but being able to build your own with your own choice performance components is. Previously MSI's gaming barebones systems were a hundred per cent Nightblade based but it looks like the Aegis has arrived as the age of VR has begun. If you click that link you will notice MSI hasn't yet got round to adding these Aegis barebones to its online product roster yet.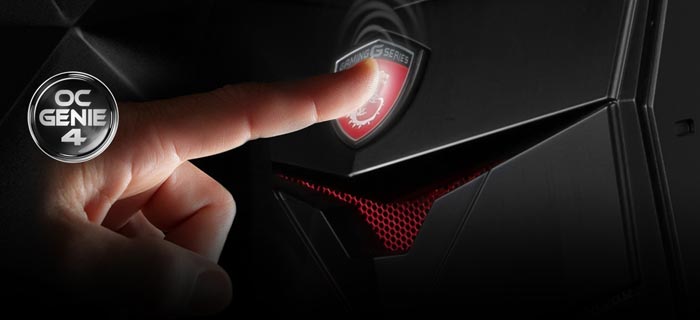 MSI Aegis and Aegis X differences
The regular MSI Aegis barebone is equipped with a B150 motherboard and CPU Cooler that which supports your choice of Intel 6th Gen processor. Those who like to overclock their systems will perhaps be more interested in the Aegis X, which comes with a Z170 motherboard capable of handling an Intel K-series processor and features the Dragon OC button, "which boosts speed by 15 per cent with one touch". There are also some differences to ports and cooling, discussed below.
Other than those differences both systems support; up to full-sized Nvidia GeForce GTX 1080 GPU, up to 32GB of DDR4 RAM, and NVMe PCI-E Gen3 x4 SSD storage.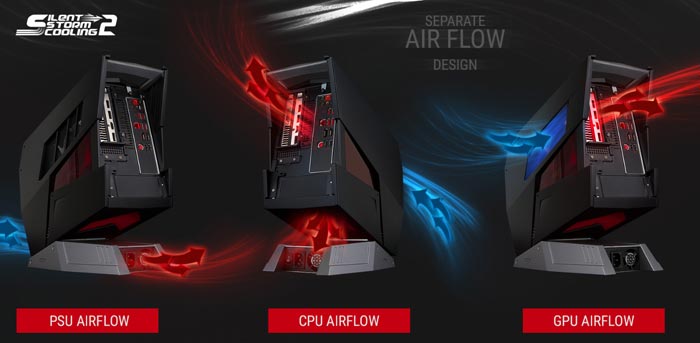 In these compact desktops cooling/airflow is at a premium so MSI has equipped its patented Silent Storm Cooling 2 dual-chamber thermal design, integrating liquid cooling for the overclocking-friendly Aegis X. A 600 watt power supply is fitted as standard. The system configuration with high-performance components makes it easy to create a VR ready MSI Aegis X and the front 'VR Link' HDMI port and USB 3.0 ports.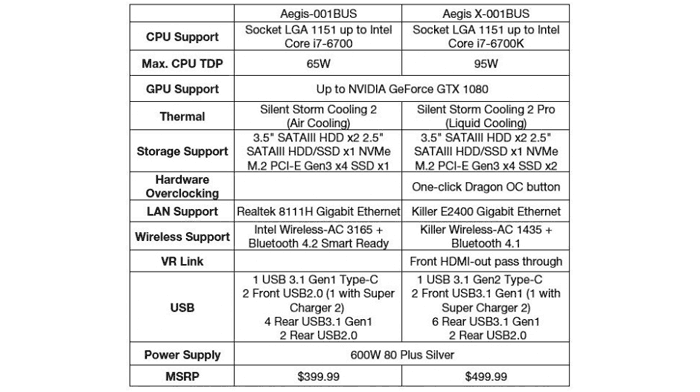 Lastly, MSI hasn't forgotten to equip RGB LED lighting, as these systems come with MSI's Mystic Light design offering a rainbow of colours and plethora of lighting modes. MSI says that the VR-ready Aegis X gaming barebone has an MSRP of $499.99, and the Aegis gaming barebone is available starting at $399.99.