Intel continues to support its vision of small, efficient PC usage through various iterations of the Next Unit of Computing (NUC). The latest models house either a sixth-generation Core i3 or Core i5 Skylake processor and therefore use the baked-in HD 520 or Iris Graphics 540. Perfectly competent for productivity work, these NUCs won't make much of a fist of gaming, but that's the price paid for having such a small form factor.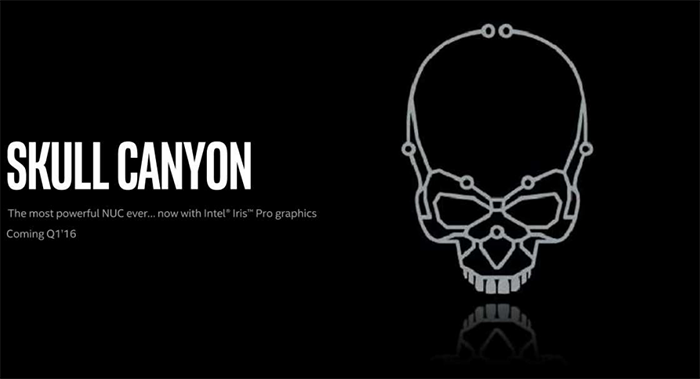 Yet things the world of NUCs are about to change, if a PDF from CMT Labs is to be believed.
And should such a Skull Canyon NUC come to pass next quarter, it will pack in considerably more graphics horsepower than any Intel-produced SFF system to date, because the only Skylake-based Iris Pro graphics, known as (GT4e) 580, use the full complement of 72 execution units and either 64MB or 128MB of performance-enhancing eDRAM. In short, this is Intel's best graphics to date... by some margin.
The Skull Canyon NUC therefore would boost the present Iris Graphics 540's potential by 50 per cent on a clock-for-clock basis, pushing potential throughput to over 1TFLOPS for the first time. Enough to provide a reasonable gaming experience at a 1080p resolution? Perhaps.
Other NUC-style vendors, such as Gigabyte, have shoehorned in discrete graphics or a particular version of Iris Pro Graphics into a box barely any bigger than a NUC, yet we believe there's genuine appeal from an Intel solution running off a single processor, assuming the chip giant doesn't price the Skull Canyon box too high.
Would you, the enthusiast, be interested in a latest-generation Iris Pro NUC box designed and built by Intel? Do let us know in the comments facility below.