Microsoft has announced that the Surface Hub will be coming to 24 markets worldwide. Customers will be able to begin ordering the large screen collaboration device from 1st July. For those with smaller meeting rooms, huddle spaces and offices the 55-inch model will be priced at $6,999. Those with larger meetings spaces may well benefit from the 84-inch Surface Hub which costs $19,999. Following the publication of its blog post about the launch Microsoft sent an email to HEXUS quoting UK prices for the 55- and 84-inch models as being £5,709 and £16,269 respectively.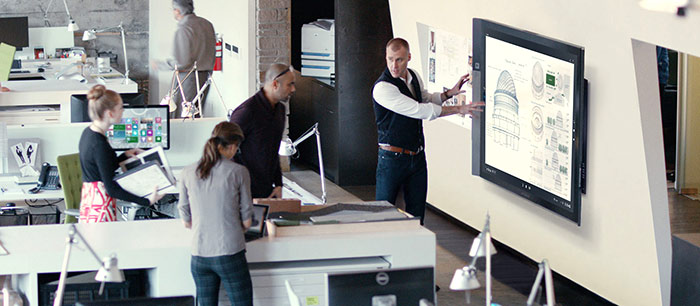 The Surface Hub has been three years in development says Microsoft. This new productivity tool is designed for the modern workforce, optimized for a group of people to use together, and will "bring teams together in more efficient and engaging ways". Microsoft has brought some of its core services such as Skype, Office and OneNote and Windows 10 to the big screen and they come to life with the new hardware, touch and inking facilities. This functionality isn't limited to Microsoft apps – an example is given of two teams collaborating remotely via a Surface Hub sharing inkings on CAD diagrams. The device has, in testing, been particularly useful for getting the best from remote meeting attendees.
As well as its headlining functionality Microsoft believes that the Surface Hub represents "incredible value" for businesses. This all-in-one device replaces the audio-video conferencing system, display, projector, wireless receiver, and the analogue or digital whiteboard "at a lower upfront cost," it says. Microsoft asserts that, just as every modern office desk has a PC, every meeting space should one day have a Surface Hub.
Microsoft has shown off the Surface Hub before, but now it has answered the burning questions of pricing and availability. The pricing is detailed above and businesses which make orders from the 1st July in 24 markets will be able to take delivery of the hardware worldwide from September. The worldwide territories include; the United States, Canada, Australia, Austria, Belgium, Denmark, France, Finland, Germany, Ireland, Italy, Japan, Luxembourg, Netherlands, New Zealand, Norway, Portugal, Qatar, Singapore, Spain, Sweden, Switzerland, United Arab Emirates and the United Kingdom.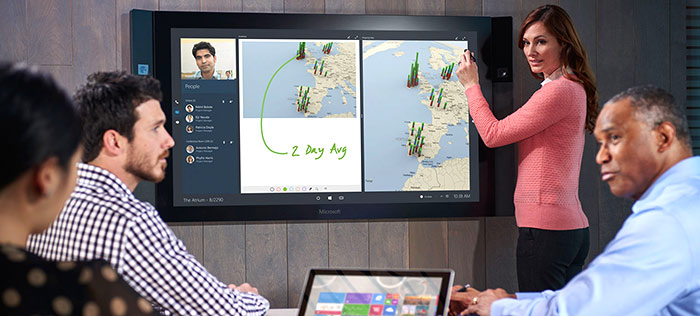 Full tech specs are listed below:
OS

Custom version of Windows 10

Exterior

Dimensions: 84" – 46.12" x 86.7" x 4.15" (1171.5mm x 2202.9mm x 105.4mm)

55" – 31.75" x 59.62" x 3.38" (806.4mm x 1514.3mm x 85.8mm)

Weight: 84" – 280lbs, 55" – 105lbs, Color: Black, Physical buttons: Power, Input Select, Volume, Brightness

Storage

128 GB SSD, 8 GB of RAM1

Display

Resolution: 3840 x 2160 (84" model) and 1920 x 1080 (55" model)

Aspect ratio: 16:9, Touch: 100-point multitouch

Pen input

Surface Hub Pen (two included), Powered, Active, subpixel accuracy

CPU

84": 4th Generation Intel Core i7 with NVIDIA Quadro K2200 graphics

55": 4th Generation Intel Core i5 with Intel HD Graphics 4600

Network

Wi-Fi (802.11 a/b/g/n/ac), Ethernet 1 Gbps, Bluetooth 4.0 low energy, NFC reader, Miracast-enabled

Cameras and A/V

Dual 1080p front-facing cameras, 100-degree horizontal field of view

High-performance, four-element array microphone

Dual front-facing stereo speakers

Ports

84" – (1) USB 3.0, (4) USB 2.0, Ethernet 1Gbps, Video Out, 3.5mm Stereo Out, RS232 Serial (RJ11). Wired Connect: Video In, HDMI In, VGA In, 3.5mm Stereo In, (1) USB 2.0 type B

55" – (1) USB 3.0, (2) USB 2.0, Ethernet 1Gbps, DisplayPort Out, 3.5mm Stereo Out, RS232 Serial (RJ11). Wired Connect: Video In, HDMI In, VGA In, 3.5mm Stereo In, (1) USB 2.0 type B

Sensors

(2) Passive infrared presence sensors, ambient light sensors

In the box

Two Surface Hub Pens, Microsoft All-In-One Media Keyboard and power cable

Pre-loaded

Custom version of Windows 10, Microsoft Office

Warranty

One-year limited warranty (in the U.S.; warranty terms vary by market)